For Mac users with an interest in tracking bugs and fixes, this past Wednesday was a day for celebration. In one fell swoop, dozens of irksome Mac OS X bugs were eradicated, courtesy of Apple's release of Mac OS X 10.5.3.
Apple has posted its official list of what the update addresses. While the list provides numerous specifics, it is deliberately vague regarding many of OS X 10.5.3's most important fixes.
For example, regarding problems with the Time Machine and Time Capsule combo (as noted in a recent Bugs & Fixes column), Apple states that Mac OS X 10.5.3 "improves reliability" and "fixes compatibility," but does not offer further details as to what these phrases mean. Still, it's good to know that we can expect better performance from these useful backup components.
There are also fixes in Mac OS X 10.5.3 that are not mentioned at all in the Apple list. The reach of some of these fixes extends beyond Apple's software to remedy problems with third-party programs.
For example, if you own the Drive Genius 2 disk utility, you may have noticed the following text in the Read Me file for version 2.0.2:
This new release adds preventive measures to help avoid an issue with Leopard (10.5.x) and Serial-ATA based drives. Apple is aware of the problem and is working on a fix. The workaround is to boot from the Drive Genius 2 DVD. If you are trying to repartition, rebuild, repair or defrag a Serial-ATA drive, you must either be booted from the Drive Genius 2 DVD or be running Mac OS X 10.4.x (Tiger).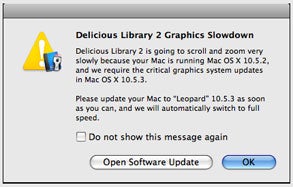 The key sentence here is "Apple is aware of the problem and is working on a fix." I have been told that this fix is now included as part of Mac OS X 10.5.3.
Similarly, if you launch the recently released 2.0 update to the Delicious Library cataloging application before installing Mac OS X 10.5.3, you will be greeted with the warning message displayed to the right, urging you to update to Mac OS X 10.5.3 "as soon as you can."
The bottom line: Mac OS X 10.5.3 will not put an end to all bugs—otherwise we'd be folding up this column after today. But it promises to be the most significant improvement to Leopard since Mac OS X 10.5's debut last October.