Desktop e-mail programs like Apple Mail and Microsoft Entourage pack a lot of power, but if you want the flexibility to quickly check your e-mail from any computer in the world, an online e-mail service is the way to go. One of the best is Google's free e-mail service, Gmail. Its generous storage allocation, killer spam filter, and the ability to group related messages into conversations are just some of its strengths. But are you getting the most out of this mature Web application? Look under Gmail's hood and you'll find lots of advanced features that can help you manage your email smarter and faster.
Use labels
Gmail doesn't use conventional folders to file e-mail messages. Instead, it offers labels. These tags function like folders, but with one fabulous difference: a single message can have multiple labels, so there's no limit to how many places you can "file" your messages. To assign a label to a selected message, click on the More Actions drop-down menu. Under Apply Label, choose the desired label. You can create new labels by clicking on Settings and selecting the Labels tab. You can even color code your labels for easy identification in lists of messages. From the Labels box on the left side of your screen, click on the clear box the right of a label's name and select a color from the resulting pop-up menu.
Archive it
Don't let e-mail just sit in your Inbox. Whisk away e-mail messages you don't need staring at you any more by archiving them. Select the message and click on the Archive button. This moves it into the All Mail list. Archiving your e-mail de-clutters your inbox but still keeps the message in your Gmail account for future reference.
Filter it
Just as with Mail and Entourage, you can have Gmail automatically process incoming messages based on specific characteristics. For instance, you can label incoming messages from a mailing list as Read Later, automatically forward e-mail from your spouse to your cell phone, or star messages from the boss. In Gmail's Settings screen, click on Filters to set the search criteria, preview the results, and configure what action Gmail should take. Or you can jumpstart the process by first opening an example of the type of message you want to filter, clicking on the Reply drop-down menu in the message's right-hand corner, and then selecting Filter Messages Like This.
Search smart
Need to quickly call up a message from your enormous e-mail archive? Spend a little time mastering Gmail's search tool. Gmail combines the power of Google's search prowess with e-mail specific operators to quickly pinpoint the message you need. For example, to find messagesfrom Jim that discuss his favorite movies, type from:Jimsubject:movie into the search box. Or use from:"John Smith"has:attachment to locate that PDF map John sent a while back.(The quotation marks indicate that a group of words must appear next toone another.) You can use these tricks to build complex searches. Totrack down messages from anyone at Example.com except Jill, forexample, type from:example.com AND -from:jill@example.com. For more ideas, take a look at Gmail's fulllist of search operators.
Spot personal correspondence
Want to quickly see which messages were intended for your eyes only? Gmail's Personal Level indicators will show you when an e-mail was sent only to you, as opposed to a large group. To turn it on, open your General settings and select Show Indicators. From now on, messages sent to your address only will display a double arrow (>>) next to the subject line; messages sent to your address and others get a single arrow (>). Messages not set to your specific address (such as mailing list messages) get no arrow at all.
Mute conversations
Tired of being distracted by an annoying e-mail thread that just won't die? When chatty co-workers or talkative mailing-list members extend a conversation beyond its usefulness, try "muting" the conversation. With one of the messages selected, press the M key, which tells Gmail to automatically archive new messages in the conversation as they arrive. (In other words, they don't show up in your inbox.) To later view all the conversations you've muted, enter is:muted in the search bar. To unmute a conversation, select it, and from the More Actions drop-down, choose Move To Inbox.
Get IMAP access
While most Web-based e-mail services can download your messages to a desktop client via POP, Gmail goes a step further by offering support for IMAP access, which provides two-way syncing between your client and Gmail. That means that messages you read, write, or label on your iPhone or in Mail get synced back to Gmail-and every other IMAP client you're using-so you always have access to the most current state of your inbox. Gmail even maps folders in your IMAP client to labels in the Web application. For example, when you place a message in a folder in Mail, Gmail assigns a label with the same name to the message.
Import mail from other accounts
If you want to turn Gmail into a single, universal inbox for non-Gmail e-mail accounts, you can. The Mail Fetcher feature can download messages from up to five accounts via POP. To set it up, click on the Settings link and go to the Accounts area. In the Get Mail From Other Accounts section, click on Add Another Mail account and follow the prompts to enter your AOL, EarthLink, or any other POP-enabled email account.
If you need to respond to a message from one of those other accounts and don't want it to look like it came from your Gmail address, no problem. Return to your Account settings and add the appropriate e-mail address in the Send Mail As section. Then turn on the Reply From The Same Address The Message Was Sent To option.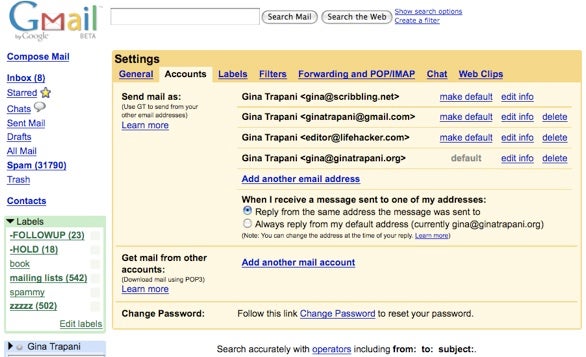 Use keyboard shortcuts
Want to navigate Gmail's Web interface without touching the mouse? Use Gmail's built-in keyboard shortcuts. First, make sure they're enabled: in Settings, on the General tab, select the Keyboard Shortcuts On option. Some shortcuts are obvious and easy to remember: for example, press the R key to respond to a message, press Z to undo an action, or press G and then I to go to the Inbox. Others will take some practice to memorize. To get a quick reference to Gmail's keyboard shortcuts, press the question mark (?) for help.
[Gina Trapani is the lead editor of Lifehacker.com and the author of Upgrade Your Life: The Lifehacker Guide to Working Smarter, Faster, Better (Wiley, 2008).]