EgeRift is offering a public beta of RiftVault, new security software developed exclusively for Mac OS X 10.5 "Leopard."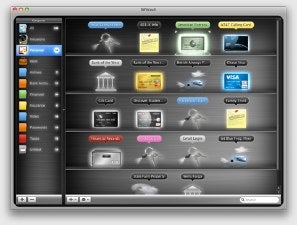 Designed as an all-in-one security repository, RiftVault helps you keep secret and secure information like credit card numbers, passwords, Web site logins, frequent flyer numbers, insurance policy numbers and bank account information. The information is encrypted using 256-bit AES protection and SHA-256 hashing and a drag-and-drop system that lets you add documents you want to keep confidential.
The software uses a visual inspector that lets you incorporate graphics such as credit card designs, storing data using a series of predefined item types (you can add other content as sticky notes, too). Documents you've dragged and dropped from the Finder get ZIP-compressed and placed inside a virtual safe deposit box.
System requirements call for G4/867MHz or faster (including Intel), Mac OS X 10.5 or later, 8MB hard disk space, 512MB RAM.
The software is expected to be released for $49; for now, EdgeRift is offering a pre-order discount of 33 percent, reducing the price to $33 for a limited time.