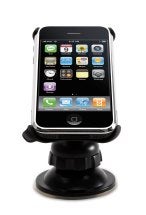 Griffin Technology has announced that it is shipping the WindowSeat, a new windshield mount for the Apple iPhone and iPod touch. It costs $29.99.
WindowSeat helps keep your iPhone or iPod touch at eye level on your vehicle windshield or dashboard using a suction cup mount. The iPod touch or iPhone is held in place using a ball-and-socket joint-equipped mounting bracket that can pivot to allow for angle adjustment. A corner-release lets you easily pop out the device when it's time to go without moving the WindowSeat itself.
The suction cup is made of silicone and stays in place on the windshield or other non-porous surface. An adapter is included to help the WindowSeat mount to steeply-angled windshields. Griffin also includes an auxiliary 3.5mm-to-3.5mm audio cable to connect your iPod touch or iPhone to the auxiliary input jack on some car stereos.