At a Glance
Expert's Rating
Pros
Easy to use
Accessible from anywhere
Calendars can be shared with others
Cons
ICal syncing is one-way
Offline use is limited
No task support
Our Verdict
In the increasingly connected world that we live in, it makes sense for many people to manage their calendars online, so they can access them wherever they are and whenever they want–provided, of course, they have an Internet connection. For people already using Google services such as Gmail( ), having Google Calendar manage your schedule is a logical choice, since it uses the same login information. For users who don't already have a Gmail account, it's a good choice as well–provided that you don't mind being tied to a Web browser for your calendar information.
Getting started with Google Calendar is simple. You'll need to create a Google account if you don't already have one, and then navigate your browser to https://www.google.com/calendar. Once you've logged in, you'll be presented with a typical view of your week. Google Calendar features weekly, monthly, and daily views, as well as a customizable view that lets you choose from the next 2 to 7 days or the next 2 to 4 weeks. There's also an Agenda view that gives you a list of all upcoming events, delineated by day, just like your pen-and-paper daybook.
If you want to keep track of both work and play, you can create multiple calendars, assigning each a name and a color to distinguish it. You can also subscribe to a variety of public calendars for events such as holidays, movie releases, and sports. If you enter your ZIP code, Google Calendar will even provide you with a four-day weather forecast. And surprisingly enough, unlike Google's Gmail service, Google Calendar is totally ad-free.
Easy additions
Google's made adding an event a breeze. Clicking the Create Event button will give you a full-fledged pane with fields for what, where, when, description, reminders, and more. You can also hit the Quick Add link or just click on the day or time when you want to schedule an event, and a pop-up bubble will appear; type your event details into that bubble in plain English: "7pm dinner with John at Christopher's," for example-and Google Calendar will automatically parse the details to figure out what you mean, assigning the correct data to the date, time, and location fields. You can also invite others to an event by entering their e-mail addresses in the Guests section of the full event creation screen.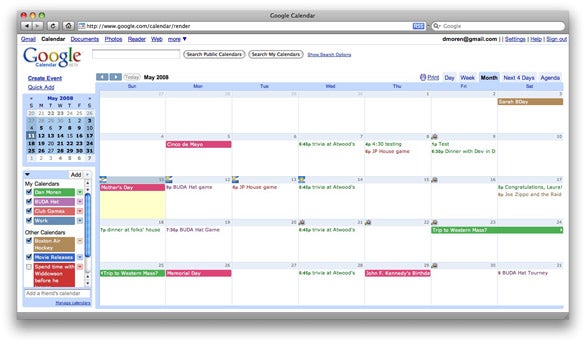 As in most calendar programs, you can set Google Calendar to remind you of an upcoming event, either with a pop-up message, e-mail, or–once you've set it up–text messages to your mobile phone. You can set default notifications on a global or calendar-by-calendar basis. While the settings for notifications allow you a wide variety of time options, there are limits. For example, Google's pop-up reminders live in your browser, so they won't show up if you don't have your calendar open. And if you want to get a reminder to something other than your Gmail account, you'll need to configure Gmail to forward those messages.
Sharing calendars
The strengths of Google Calendar come in its connectivity. It's easy to share your calendars with other Google Calendar users, or even embed a Google Calendar widget on your Web page. You can set the permissions others have concerning those calendars-whether they can see your events, edit them, or just tell whether you're free or busy. But people you share calendars with must have Google accounts of their own. And, while you can subscribe to a Google calendar in iCal, you won't be able to get true bi-directional syncing without the help of a third-party solution like Spanning Sync or Calgoo. And unlike iCal or other calendaring solutions, Google Calendar does not currently allow you to create or manage tasks.
Of course, the biggest strength of Google Calendar–its online existence–is also a potential weakness. If you don't subscribe to your calendars with an OS X application like iCal, you won't even be able to view your calendar when you're not online. While Google is working on a system that may support offline use in the future, it's still in extremely early stages at this point.
Macworld's buying advice
With an easy-to-use, intuitive interface, and just enough sophistication to keep power users satisfied, Google Calendar is hard to beat. And with a price like free, there's no reason not to give it a try.
[Dan Moren is a Macworld associate editor.]