At a Glance
Expert's Rating
Pros
Task support
Can get reminders via instant message
Accessible from anywhere
Cons
Ad-laden interface
Adding events is labor-intensive
Can't specify different notifications for different times
Syncing is Windows-only
Can be shared only with other Yahoo users
Our Verdict
If you've been on the Web for a while, chances are good that you have a Yahoo account, even if you don't use the company's e-mail service. But you may not have realized that your account gives you access to Yahoo's free online calendaring software. All you have to do is navigate to https://calendar.yahoo.com to get started.
By default, Yahoo Calendar shows your events for the day; tabs at the top of the interface let you also view your calendar by week, month, and year, as well as by an agenda-style Event List. Yahoo also lets you manage your tasks, which show up in a box on the left-hand sidebar and in their own separate task view. Unfortunately, one downside to Yahoo Calendar is that it puts obtrusive ads on your calendar page, often with flashing or animated elements.
To add an event, you must click the Add Event button at the top left of the screen or enter the information in the Quick Add form below the calendar, which is less than obvious. If you're in the Month view, you can also click the Add link in the box for each day. Adding an event can be a laborious process, requiring you to tab or mouse through several fields and pull-down menus to fill in all the relevant details, such as date, time, location, description, and so on. Even the Quick Add function has several pull-down menus to navigate. In the full event entry dialog, you can also enter e-mail addresses to invite your contacts to an event.
Sharing calendars
You can share your calendars with other people fairly easily, but it's less obvious at a glance how to get other people's calendars to show up on your page. You're limited to one calendar, though you can categorize the events on it with a finite number of descriptions (appointment, call, lunch, or meeting, for instance); however, you can only sort by this information in the Event List view. Other calendars, including both your friends' and those for any Yahoo Groups you belong to, are displayed as what Yahoo terms Time Guides. They can either be intermingled with your own events or displayed in separate columns. There are other public calendars available, but they are limited to sports team schedules, financial events, and holidays. While you can set up your calendar to be visible to anybody with a Web browser, if you want to restrict access to certain people, they will need to have a Yahoo account as well.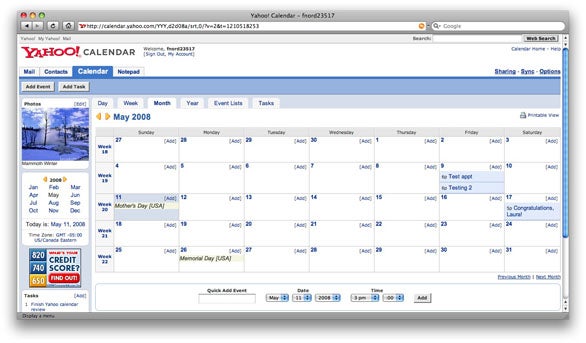 Yahoo Calendar lets you send yourself reminders of upcoming events by scheduling notifications. You can elect to receive these reminders via e-mail, a text message to your mobile phone, or your Yahoo Messenger account. In order to get reminders to an e-mail address other than your Yahoo account, you'll have to add that address to your account profile and verify it. Unfortunately, while you can set up reminders for two separate times, you can't specify different types of notifications for different times-for instance, you couldn't send yourself a reminder email two hours before an event, and an SMS half an hour before the same event. Instead, Yahoo Calendar will send both the email and the SMS at both of the times you choose.
If you want to use your Yahoo Calendar in conjunction with other calendaring programs, you can export and import data—but only to or from Palm Desktop and Outlook. Yahoo has a syncing client called Autosync, but it's only compatible with Windows. If you want to synchronize with iCal, you'll have to go through a multistep workaround. And, as is true with other online calendars, you'll lose access to your Yahoo Calendar when you don't have an Internet connection.
Macworld's buying advice
For those looking to keep track of a simple personal schedule, Yahoo Calendar might serve: it's free and it offers basic calendaring and task functions. But if you have more complex needs, you'll want to look elsewhere—perhaps to iCal or Google Calendar ( ).
[Dan Moren is a Macworld associate editor.]