It's fitting that Microsoft Chairman Bill Gates delivered his final publicly scheduled speech as a full-time Microsoft employee on Tuesday to a roomful of software developers.
Gates started as a developer 33 years ago when he co-founded Microsoft, and the developers of the Windows OS are a primary reason the company is an industry powerhouse.
The latter is not lost on Gates, who kicked off the TechEd Developers conference Tuesday morning, addressing what is perhaps his company's most loyal audience. He acknowledged their importance to his company. "The success of Microsoft really is due to our relationship with developers," he said.
Gates spoke only briefly about his July 1 transition to spending most of his time at The Bill and Melinda Gates Foundation, calling it "a bit abrupt."
"It will put me in new territory," he said. "That's the first time I've really changed my career since I was 17 years old. I've been completely immersed in software."
Aside from that mention of his upcoming career change, the speech was textbook Gates, who for more than 30 years has been the face of Microsoft and the one responsible for laying out its future vision. On Tuesday he did more of the same, outlining future directions for application development and services, the latter being a more recent topic of interest for his company.
On the former, Gates unveiled Microsoft's future direction application modeling, part of Project Oslo, Microsoft's application-development plan for making it easier for developers to build SOAs (service-oriented architectures). SOAs allow the underlying software running a company's network to communicate with software and pieces of software outside the firewall using standard network and application interfaces to create composite applications.
Microsoft will give developers their first look at Oslo, which will add a common architecture for visually modeling applications in different Microsoft software products, in October at the Professional Developers Conference, Gates said.
"We're taking the kind of models you're seeing rising in specific domains — like software management in System Center, data design in SQL Server … and [putting] them into one model-driven space," he said. "In some ways, it speaks to the dreams about a [central application] repository people have had for decades."
As for services, Gates articulated perhaps more clearly than ever before Microsoft's plans to compete with companies like Google and Amazon.com to provide the industry's largest data centers for hosted services. Microsoft has been late to embrace a hosted-services business model, but has been forced by competition to move more quickly or miss out altogether on new Web-based business models.
"We're taking everything we do at the server level and saying we will have a service that mirrors that exactly," Gates said. "It's getting us to think about data centers at a scale that we haven't thought of before… [to create] a mega-data center that Microsoft and only a few others will have."
Gates also highlighted Microsoft's flagship Web technology, the Internet Explorer (IE) browser, which has been an asset and a curse for the company over the years. While it allowed Microsoft to secure its dominant position in Web-browsing technology, it also triggered Microsoft's U.S. antitrust woes, something that haunts the company to this day. IE also has taken a hit in the past several years as Mozilla Firefox, an open-source browser, has gained a loyal following, forcing Microsoft to step up development and make its own product more innovative.
Gates revealed that beta 2 of the next version of IE, IE 8, will be available in August. He also stumped for what has been his pet interest during his years at Microsoft — natural human-interface technology that allows people to interact with computers in ways similar to how they interact with each other. Last week, Microsoft revealed that the next version of Windows, Windows 7, will include touchscreen technology, a fact he mentioned in his talked.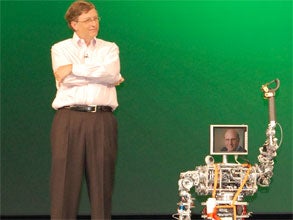 He also reiterated his vision for mini, tablet PCs that allow people to "write" and use other nature interfaces such as speech-recognition technology. Another futuristic technology Gates has promoted at Microsoft is robotics, and he made this interest part of the final discussion of his comments Tuesday. He welcomed onto the stage Patrick Deegan, a graduate student from the University of Massachusetts Amherst, and the "Ballmer-bot," a robot made to imitate and act like Steve Ballmer, Microsoft's CEO and Gates' long-time business partner, who is not attending TechEd.
"Developers, developers, developers, developers," the robot, developed using Microsoft Robotics Developer Studio product, repeated over and over, in an homage to Ballmer's famous rant. The robot also raised his arm, showing how he has the ability to "throw eggs," according to the student controlling his movements.