It's hard to say what exactly will happen to those applications developed for jailbroken iPhones in when the App Store goes live later this month (presumably). Some developers will likely (or have already) made the jump to Apple's own SDK, but there are also those whose applications will not be allowed by the store's terms of service.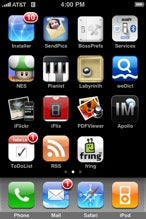 The good folks at Lifehacker have put together a solid list of thirteen applications that you can get right this very moment on your jailbroken iPhone, along with a link to the jailbreaking procedure (which, nowadays, is painless and takes less than a minute). The applications' purposes range from managing your Netflix queue to using peer-to-peer networks to serving as a karaoke machine.
Personally, I still have my iPhone jailbroken at this point—largely because it's the only way I can bring you quality screenshots like the one here. I'll likely revert to the default firmware for the next upgrade, but who knows if Apple will let me (or a third-party) enable the screenshot function in the future? If not, it may be back to jail I go.