At a Glance
Expert's Rating
Pros
Useful, contact-centric approach to handling information
Scads of features
Managers nicely integrated
Single-window application handles broad range of PIM tasks
Cons
Doesn't support calendar publish and subscribe
Needs comprehensive manual
Our Verdict
Every new Mac comes equipped with Apple's "information hub" applications including Address Book, iCal, and Mail ( ), where you control your contacts, calendars, and communication. They're not desirable just because they're free; in their Leopard incarnations, they communicate with each other in helpful ways. But they're also a study in compromise. Their interfaces are designed to be straightforward and their feature set limited so that they'll be useful without also being too complicated for the casual computer user. And regardless of their level of helpful handshaking, they are separate applications, which means that you must occasionally bounce from one to the other.
Those who find such bouncing a distraction or feel that Apple's offerings are underpowered may seek a more advanced, one-stop solution. Objective Decision's Contactizer Pro 3.6.1 is designed to be a large part of that solution. It offers a single application that includes integrated features for managing contacts, tasks, calendars, e-mail communication, syncing, and projects. It's a nice-looking and largely intuitive program that includes nearly all of Address Book's and iCal's features. It also comes with some unique extras not found in Apple's offerings—a maps area (you can choose either Google or Yahoo Maps as the engine) within the application, for instance, as well as the ability to search white and yellow pages without leaving the program. But it also lacks features such as iPhone syncing and support for calendar publish and subscribe, which means that some people will find it impossible to rely solely on Contactizer Pro for their task and content management needs.
An Express version, available for half the price, has most of the features of the Pro version, though it does lack Apple Mail integration.
Familiar faces
Although Contactizer Pro has some interface elements that are similar to Apple's designs—the Sources pane along the left side of the single window and the split-pane views that change depending on the function you've chosen, for example—its design is more reminiscent of Microsoft's Entourage ( ). As with Entourage, you choose between various information types, called managers, by clicking buttons in the program's toolbar; these managers include contacts, tasks, events, communication, and projects. To the right of these manager buttons are buttons for initiating common actions—for example a New button for creating new contacts, events, tasks, or messages; a Quick Tasks button for swiftly creating a To-Do item; and a Data Picker button for producing a list of Contacts, Tasks, Events, and e-mail messages synced with Apple's Mail.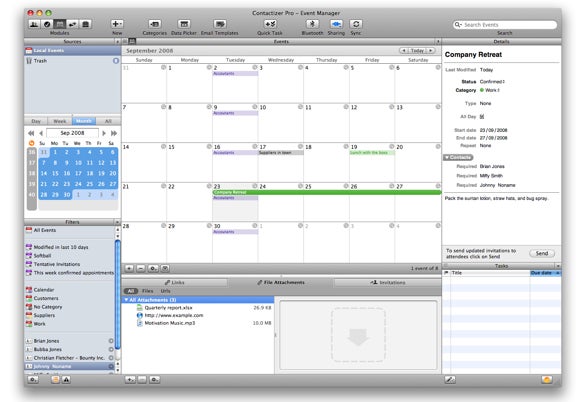 As in Entourage, projects act as collections of related tasks, e-mail messages, contacts, and events. To add one of these items to a project, simply create the project, control-click on the item, choose Add as Resource to Project from the contextual menu, and select a specific project from the submenu. Click the Project button, select your project, and double-click on any item within it to produce an editable information window for that item.
Contacts are key
At first blush, it's a little hard to wrap your head around what Contactizer Pro is all about. The clue to the program's theme is in its name: Contact. The contact acts as the unifying element. In many cases, it's the unit you deal with in order to access the information attached to it.
Here's how it works: In each manager view, any contact that has data from that manager attached to it appears as a filter entry. For instance, Joe Blow is slated to attend a couple of meetings that appear within the Events manager pane (the calendar). When you click that contact's name in any module other than Contacts, any items associated with that contact appear and all others are hidden. So, following the example, if you've clicked the Event Manager button to view your calendar, when you click Joe Blow in the Filters pane at the left side of the screen, only those events that include Joe will appear on the calendar. (Joe won't appear within the list of filters if he's not associated with any calendar events—only those contacts with events attached to them appear as filters.) The same idea works with tasks, communications (e-mail, phone calls, and iChat transcripts, for example), and project views. Click Joe's name and any bits of information associated with his contact remain while others are hidden.
To avoid clicking from one manager view to another, you can get an overview of the information attached to a particular contact by clicking the Contacts Manager button and selecting a contact's name. In the pane at the bottom of the window, you'll see tabs for Tasks, Events, Communications, Attachments, and Maps. Each tab has its own set of buttons for narrowing your selection. So, for example, select Joe Blow and then the Communications tab below. Within that tab, you can view a list of iChats, e-mail messages, faxes, mailings, and calls associated with Joe. Or click the Maps tab and any addresses that appear on Joe's contact card are listed in the pane. Click on an address and a map appears in the pane that shows the location of that address.
This is an interesting way to organize information, but it takes some getting used to when moving from Apple's applications, which tend to focus on the kind of data they're creating—a contact, event, or task—rather than on attaching that data to a contact.
Integration and interface
The level of integration between these managers is impressive. For example, you can click on the Event Manager to bring up the program's calendar. Click the Data Picker button and choose the Contacts tab from the floating window. Drag selected contacts from this floating window onto a date and an event is created that includes the selected contacts. Within the Details pane for this event, you'll be able to send invitations to these contacts, as well as mark their participation status and role. You can also link tasks to events by simply dragging them from the Data Picker window into a Links pane at the bottom of the window. You're welcome to attach files in a similar way—just click the file Attachments tab and drag in a file.
However, with all these panes and fields, Contactizer Pro can sometimes requires a fair amount of clicking to get things done. For example, unlike Address Book's single contact-editing pane, Contactizer Pro presents you with a window that contains nine separate tabs—Identity, Home, Work, Misc, Chat/URL, Dates, Relations, Custom, and Note. And although you can quickly create a task that includes only title, category, priority, and due fields, if you want to create an information-rich task that includes notes, attachments, and alarms, you must work through another multi-tabbed window. It would be nice to have the option to create a configurable single-pane template for events and tasks. Additionally, every time you edit a Contactizer item, a Save sheet appears, regardless of how minor the change—an annoyance you don't have to deal with in Entourage.
More and less
Contactizer Pro can perform a number of feats. Among the highlights are the ability to share information across a local network (and optionally edit contacts, events, and tasks in another user's database, should they grant that permission), support for mail merge using Apple's Pages and Numbers or Word 2004 documents, and initiating a Skype conference (text, audio, or video) from within the application. And there's more. Lots more. Regrettably, Objective Decision doesn't include a manual with the program; given the number of tricks it can perform, it could use one. Its online help provides guidance on most topics, but it's not as detailed as it should be. There's a lot going on with this application and a comprehensive manual would be welcome. (Some of the dialog boxes and online help sound as if they were inexactly translated from another language.)
Even with all these features and Contactizer Pro's level of integration, you can't realistically leave Apple's applications behind. The program doesn't allow you to publish or subscribe to calendars. If you want to do that, it's off to iCal. Although the program can display messages you've received in Apple's Mail, Contactizer Pro isn't an e-mail client, so the majority of mailing chores must be handled by Mail. (And it doesn't support displaying messages from e-mail clients other than Mail.) And while it will keep a list of your iChat logs, you can't read your iChat transcripts inside Contactizer Pro; they open in iChat instead.
Macworld's buying advice
Contactizer Pro 3.6.1 is, in many ways, an impressive information manager. The notion of the contact as hub to the information attached to it is an attractive organizational idea—one that you might take to. It's well worth your while to download the free trial to see if it clicks for you. The managers are nicely integrated and the program is more than packed with features. But I'm anxious to see Contactizer Pro take the next step—to become so self-sufficient that, if I chose to, I could leave Apple's information applications behind.
[Christopher Breen is a Macworld senior editor.]