At a Glance
Expert's Rating
Our Verdict
Back in July of last year, less than a month after the iPhone debuted, I reviewed Ecamm Network's iPhoneDrive, a neat utility that let you use your iPhone's memory as storage for files and data, much like Disk Mode on an iPod. Since that time, iPhoneDrive has received many, many updates—as well as a couple name changes, first to MegaPhone and most recently to PhoneView. The current version, PhoneView 2.0.2, offers much more functionality than that original, as well as support for the iPod touch. (Note that for the rest of this review, when I say "iPhone," I really mean "iPhone or iPod touch," assuming the iPod touch provides the feature being discussed.)
The capability to use your iPhone as a storage drive is still included in PhoneView, and it works much as it did a year ago with iPhoneDrive. After connecting your iPhone to your Mac and launching PhoneView, you'll see a window similar to a Finder window, with data types on the left, file listings on the right, and the amount of free space on your iPhone displayed at the bottom. The Disk item, selected by default, is your iPhone's data storage folder.
Ecamm automatically—and helpfully—places a copy of the PhoneView manual in this folder, but you can add any files that will fit by either dragging them from your hard drive into the window or clicking on the Copy To iPhone button (which will bring up an OS X file-navigation dialog for selecting the file[s] to be copied). To instead copy files from your iPhone to your computer, just drag them out of the window to the Finder or select them and click on the Copy From iPhone button. (You can also double-click a file in PhoneView to automatically download it to your Documents folder and then open the file; I wish there was an option to choose your preferred download folder.) Unlike the original version of iPhoneDrive, PhoneView displays a progress bar so you can monitor the status of a copy.
You can create new folders on the iPhone using the New Folder button in the toolbar, and you can delete a file by selecting it and clicking on the Delete button. (Note that PhoneView has no Trash area; once you delete a file, it's gone from the iPhone for good. PhoneView thus displays a confirmation dialog when you try to delete a file.) You can also rename items you've copied to your iPhone, a feature I requested in my original review.
One other minor complaint about the Disk feature is that it doesn't support Quick Look previews of files stored on your iPhone.
Overall, the file storage and browsing features are much-improved compared to iPhoneDrive, but they're just a small slice of what PhoneView can now do. Since my original review, Ecamm has added direct access to contacts, notes, your call log, SMS messages, iTunes media, and photos—both camera images and those transferred via iTunes.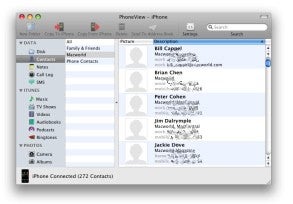 For example, if you click on the Contacts item in the sidebar, you can browse summaries (name, company, email, phone number) for each of your contacts, or search for a particular person or company. If you've added photos to contacts in Address Book, those appear here, too. Although you can't edit contacts within PhoneView, you can copy contacts to your Mac as V-Card files.
But the more-useful features, in my opinion, relate to notes, SMS messages, and your call log. Click on one of these items in the sidebar to view all the notes, SMS messages, or call entries, respectively, on your iPhone. Even better, you can edit this data.
Click on the Notes item and you can edit the contents of a note, delete a note, or create a new note—the only way to perform these tasks on your Mac without "jailbreaking" the iPhone. You can also upload plain-text, RTF, Word, PDF, or HTML documents as notes by either dragging such files into the Notes area or by clicking on the Copy To iPhone button. Notes you import get an approximation of the original's formatting; notes you create within PhoneView allow you to apply the usual OS X text-formatting options using the commands in the Edit: Font submenu. (Yes, this means you can have notes that don't use the iPhone's dreadful default Notes font.)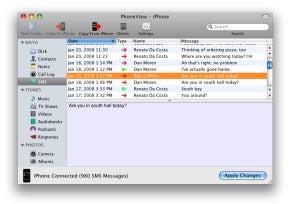 For the Call Log and SMS entries, you can delete individual or multiple call records or messages. You can also export your call log for selected messages, or the contents of selected SMS messages, by dragging them to your hard drive, clicking on the Copy From iPhone button, or double-clicking on the messages themselves (which saves them to your Documents folder). You can't edit calls or SMS messages, for obvious reasons.
One useful feature related to your call log is that while the iPhone stores only the 100 most-recent calls, PhoneView keeps a running list of all calls—each time you connect your iPhone with PhoneView running, the program saves information about recent calls to its own list. So you'll be able to view information about calls that have long since been deleted from the iPhone itself.
When you're finished editing notes, or deleting notes, call log entries, or SMS messages, clicking on the Apply Changes button writes the changes to the iPhone. Unfortunately, this step requires PhoneView to reboot your iPhone. One other caveat to these editing features: if you use the iPhone's passcode lock feature, you'll need to disable it before you can make any changes using PhoneView; it isn't sufficient to just unlock the screen.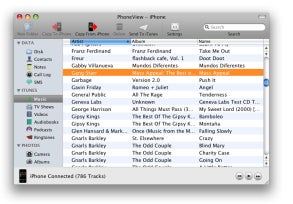 Finally, PhoneDrive also provides access to the media content of your iPhone. Click on any of the media types—Music, TV Shows, Videos, Audiobooks, Podcasts, or Ringtones—in the iTunes section of the sidebar, and the listing to the right will display all media of that type. You can preview any media file by selecting it and using the playback buttons at the bottom of the window. You can copy any media file from the iPhone to your Mac using the same methods described previously for other types of data.
Alternatively, if you're connecting your iPhone to a different computer than the one with which it's synced—for example, if you store all your music on your iMac and your iPhone is currently connected to your MacBook—you can transfer media to iTunes on the current computer by selecting the media and then clicking on the Send To iTunes button. PhoneDrive's media-extracting features aren't nearly as extensive as those provided by our favorite such utility, Senuti, but Senuti and other iPod-focused utilities don't work with the iPhone.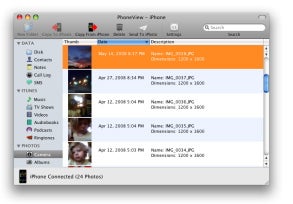 You can similarly access photos stored on your iPhone by clicking on the Camera or Albums item in the sidebar. The former includes all photos you've taken with the iPhone's camera; the latter displays photos transferred via iTunes, organized by album. In addition to copying photos to your hard drive, you can send them directly to iPhoto using the Send To iPhoto button. You can also delete Camera photos from the phone from within PhoneView. Unfortunately, there's no way to view a larger version of Camera photos from within PhoneView; you must transfer images to your Mac and then view them.
For advanced users, PhoneView offers a setting to view hidden user-data files, instead of just items in the special file-storage area. This option gives you an interesting look inside your iPhone's file storage, but you shouldn't make any modifications to newly-revealed files and folders unless you really know what you're doing.
Two main limitations remain from my review of iPhoneDrive last year. First, in order to access documents you've stored on your iPhone, you need a Mac with PhoneView installed. So PhoneView is most-useful for someone with Macs in multiple locations. Second—and this may be obvious—if you ever need to restore your iPhone, any files saved to it using PhoneView will be deleted during the restore process, so you should make sure you're not using your iPhone as the only place you store important data.
Apart from the issues I've mentioned, PhoneView works very well. It adds much-requested features to the iPhone, and its data-management capabilities make it much more versatile than the version I reviewed nearly a year ago. My only reservation in recommending PhoneView is that, given the rumors of new iPhones and third-party iPhone software being announced at next week's WWDC Keynote, I can't say how long PhoneView's features will remain so unique.
iPhoneDrive 1.1 requires Mac OS X 10.4 or later, iTunes 7.3 or later, a Mac with USB 2.0, and an iPhone.