Sling Media, makers of the Slingbox place-shifting TV device, announced Sunday that it's building a version of its SlingPlayer software for the iPhone and iPod touch. Last week Macworld was among the first to get a private preview of the software.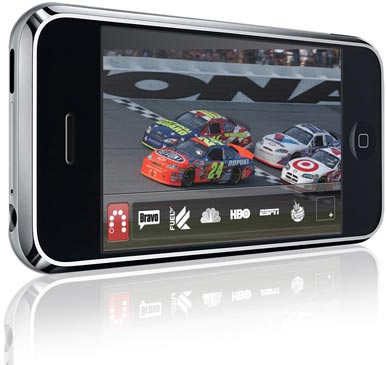 Sling's not ready to ship the software this month, when Apple's iPhone App Store will debut, but it will be showing a version of SlingPlayer—running on a "jailbroken" iPhone (i.e., one with its software modified to accept third-party software)—near the Moscone Center this week during Apple's Worldwide Developer Conference (WWDC).
SlingPlayer, currently available for Macs, PCs, and numerous cellular phone platforms including Palm, Windows Mobile, and Symbian, connects those devices with Sling's Slingbox hardware so that the devices can display live or prerecorded TV across the Internet. For example, a Slingbox attached to a TV connection in San Francisco could relay a local team's baseball game to the phone of a fan waiting for a flight in an airport terminal.
Sling VP of Product Marketing & Product Management Ted Malone told us that Sling is actually developing two versions of the player, one on the current version of the iPhone software using "jailbreak" tools to write the software, and another running in an iPhone simulator using Apple's official development tools. The officials said that by developing on both platforms, the company's programmers have been able to learn much more about the ins and outs of Apple's handheld-device platform.
Although Sling is tinkering with a jailbroken version of SlingPlayer right now as a way to "characterize the performance of the platform," company officials emphasized that the shipping version of SlingPlayer will only be available for purchase via the App Store, Apple's official sales channel for third-party iPhone software.
Sling Media is sending three of its developers to WWDC this week, and Malone expressed excitement about those developers being able to use the latest development tools released at the conference to bring the player closer to release.
The company expects the software to work well over Wi-Fi connections and, if its software for other phone platforms is any indication, acceptably well over a 3G data network. That's assuming Apple releases a 3G iPhone and doesn't consider SlingPlayer a "bandwidth hog," one of the caveats Steve Jobs listed when discussing what programs might not be allowed in the App Store.
In the demo we saw, both an iPhone and iPod touch were able to connect to several Slingboxes via a Wi-Fi network and play back video, albeit with some hiccups that were to be expected from an extremely early development version running on a modified iPhone.
When we asked about the iPhone as a hardware platform, Sling's executives were effusive with praise. They said the iPhone's screen was large and of very good quality, and that its graphics and processor specs were the best of the current class of smartphones.