It's time for another edition of Wrong in Public, the Steve Jobs Keynote Prediction game in which yours truly tries (and usually fails) to determine what the Apple CEO will announce during one of his periodic addresses to the masses. Today's game is brought to you by AT&T, the number "3" and the letter "G," and the service formally known as .Mac.
Of course, for Monday's Worldwide Developer Conference keynote—which you can follow live at Macworld.com—some of the mystery has gone out of the guessing game. We're all pretty much agreed that Apple is going to talk about its iPhone software development kit and maybe even give us a few details about the iPhone 2.0 software coming later this month. And if the iPhone shortages don't have you convinced that a 3G iPhone is likely to be unboxed Monday, then maybe if we sit around long enough, AT&T can announce it prematurely.
Of course, in keeping with recent history, AT&T would then immediately make a contradictory announcement, so maybe that's not the best indicator after all.
Even in the non-iPhone arena, the possibilities for Jobs' keynote have been pretty well laid out. The Unofficial Apple Weblog and Infinite Loop have both reported on the possibility of an Intel-only Mac OS X 10.6—something our own Rob Griffiths further analyzed in this very space. Rumors about changes to Apple's .Mac service have also been fairly well-documented. Apparently, .Mac, in addition to bringing a host of new features, is also due for a name change. And I had just stopped calling it iTools, too.
So where does that leave a would-be prognosticator? Safe in the knowledge that he can predict a 3G iPhone, tons of info on native iPhone apps, a Mac OS X update, and a revamped iToo… er… .Mac service, and that his batting average will be fairly high after Jobs leaves the stage to thunderous applause Monday. But where's the thrill in that — the knot in the pit of the stomach that comes an hour into the keynote when Steve Jobs hasn't said word one about any of your screwball predictions?
In that spirit, then, here's a trio of please-don't-bet-the-farm-on-these guesses for other things that could make their way into the keynote when Jobs isn't talking about iPhones or Snow Leopards or the latest John Hodgman-Justin Long TV commercials.
A new day for iTunes rentals
When word got out last week that the newly-launched movie rental service for Canadian and British iTunes customers gave them 48 hours to watch a movie—as opposed to 24 here in the States—my first thought was, "Man, the exchange rate between our countries must be really bad." My second thought was that it wouldn't be long before Apple bumped up the U.S. window on watching iTunes rentals to 48 hours as well. That always seemed like a condition crafted to appease movie studios anyhow, and I doubt that the 48-hour limit in Canada and the U.K. slipped by without their approval.
Not the sort of thing Jobs would tackle in a keynote aimed at developers, you say? I would agree with you, but I'd also point out that most Jobs keynotes begin with a quick rundown of Apple's assorted businesses. I can easily see him rattle off some iTunes Store-themed statistics, pausing to mention that you now have 48 hours to watch a rental in the U.S., and moving on to other matters.
No new Mac hardware
Whenever Steve Jobs appears on stage somewhere, there's an expectation that he's got a new Mac hidden under a cloth waiting in the wings. Apart from a Mac Pro unveiling here or a Power Mac G5 debut there, WWDC really hasn't been a venue where Apple takes the wraps off new Macs.
And I think that trend continues this year. Every existing product in Apple's line has seen an update in 2008, with the notable exception of the Mac mini, which sits there, alone and unchanged, since Apple quietly slapped a Core 2 Duo processor inside the mini last August and ran away before anyone could ask any questions. The mini doesn't strike me as the kind of machine that merits a slide in a WWDC keynote presentation, whether it's being update or replaced by something more interesting. Perhaps Apple will have more to say on the matter later this summer.
The keynote goes Hollywood
Have you seen Forgetting Sarah Marshall yet? I did, last month. It's OK. I mean the likable-but-unmotivated-schlub-falls-in-love-and-learns-a-little-bit-about-life-and-himself-in-the-process plotline is becoming a little well-worn as of late, but it's not like I felt the need to storm the box office and demand my money back. It's an enjoyable little comedy.
But that's not what makes it relevant to our discussion here. Rather, there's a scene in Forgetting Sarah Marshall in which our likable-but-unmotivated schlub of a hero is vacationing in Hawaii and has an iChat video conference with his stepbrother, who's back on the mainland. And the stepbrother keeps goofing around with all the visual effects built into iChat. (Or, if the movie was shot pre-Leopard, with the effects added to iChat via a third-party app like ChatFX.)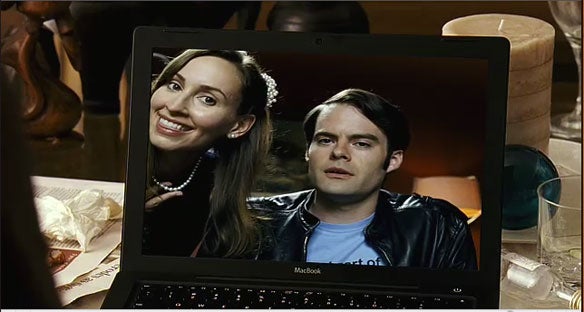 Does that scene sound familiar? It should if you attended either the 2006 WWDC keynote or the 2007 version. Quoting from Peter Cohen and Jason Snell's account of last year's keynote: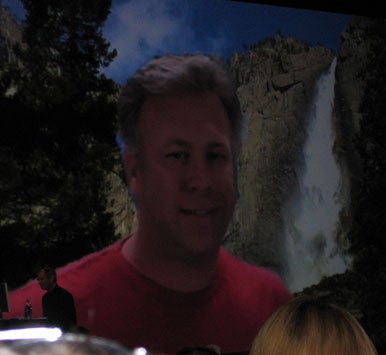 Jobs demoed the capabilities of Leopard's iChat with Apple senior VP of worldwide product marketing Phil Schiller, producing Photo Booth-effects in live chat, turning Phil upside down, making him look like a Star Wars-style hologram, and dropping his mouth into a picture of George Washington. Jobs even had a bit of fun at Microsoft CEO Steve Ballmer's expense, making a photo of Ballmer appear to say "I love my Macs," then sticking out his tongue.
That's right—major Hollywood motion pictures are now drawing upon WWDC keynotes for inspiration. And frankly, it's about time that Hollywood gave some credit to the influential comedy duo of Jobs & Schiller.
So my prediction here is that elements of Monday's keynote will find their way into even more Hollywood blockbusters. And when the next Harry Potter movie features a pivotal scene in which Hermione shows Harry how to build an iPhone application using Apple's SDK, I'll be proven right.