As all eyes in the telecom world turn to San Francisco and the highly anticipated launch of a 3G iPhone Monday at Apple's Worldwide Developers Conference, South Korea's Samsung Electronics has chosen the moment to launch a new handset that has more than a passing resemblance to Apple's iconic phone.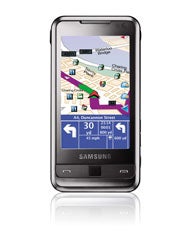 The Samsung Omnia has a prominent 3.2-inch display that takes up almost the entire front panel of the phone. Underneath the otherwise clean front surface are three buttons. The screen has 240 pixel by 400 pixel resolution (Wide QVGA), which makes it lower resolution than the iPhone or other likely competitors like the HTC Touch Diamond.
The quad-band (850/900/1800/1900MHz) phone will operate on both WCDMA (Wideband Code Division Multiple Access) and GSM (Global System for Mobile Communications) and supports 7.2M bps (bits per second) HSDPA (High-speed Downlink Packet Access) and EDGE (Enhanced Data Rates for GSM Evolution) data networking.
It will be available in two capacities: 8GB and 16GB and supports a range of video standards including DivX, XviD, H.263, H.264, Windows Media Video and MP4. The camera has 5 megapixel resolution and other features include GPS (Global Positioning System), Bluetooth and FM radio.
It measures 112 millimeters by 57mm by 12.5mm. The weight wasn't announced.
The phone will be first unveiled at Communicasia in Singapore next week and go on sale the same week in Southeast Asia. It will be available in Europe in July. Pricing and availability in other markets wasn't announced.