With iPhone apps about to begin raining down upon the marketplace like a barrage of golf balls pelting a driving range, it's perhaps fitting that a golf program is among the first built-for-the-iPhone programs to clamor for your attention this week.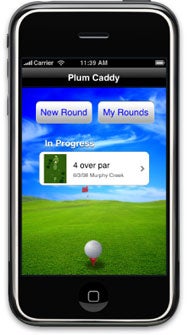 Plum Caddy from Plum Amazing bills itself as a golf-mapping and scoring application. Compatible with either the iPhone or the iPod touch, Plum Caddy tracks scores, putts, and other stats. The application takes advantage of the phone's multitouch interface to let the user record exactly where each shot landed on a given hole. Golfers serious about their game can use that data to improve their game, similar to how my colleague Rob Griffiths once used Google Earth to chart a round of golf.
Plum Caddy isn't the only iPhone app that Plum Amazing has up its sleeve. The company also announced Plum Record, an audio-recording app for lectures, dictation, and other audio reminders. The application lets users annotate recordings with text or pictures taken by the iPhone's built-in camera.
Both Plum Record and Plum Caddy will be available once Apple launches its App Store.