Apple will delay the release of the iPhone 2.0 software from late June (as previously promised) until early July. But when the significant update does ship, it will offer plenty of new features for iPhone and iPod touch users.
Apple announced the new release date for the iPhone 2.0 update as part of a demonstration of the software during Steve Jobs' Worldwide Developers Conference keynote presentation on Monday.
When it does ship, the software will introduce a host of new features. The iPhone will add a contact search that allows users to enter a name and instantly find who they're looking for. Full iWork document support lets users view Pages, Numbers, and Keynote documents. Apple also will offer full support for Microsoft Office documents, adding PowerPoint presentation viewing to the Word and Excel viewing already available. And turning the iPhone into landscape mode will convert the Calculator application into a scientific calculator.
iPhone 2.0 also adds much sought-after bulk delete and move capabilities to its Mail application. Mail users will be able to save images from e-mails into their Photo Library.
Apple will also add parental control features, letting parents turn off explicit content, as well as access to YouTube, the iTunes Store Wi-Fi Music Store, and the forthcoming App Store.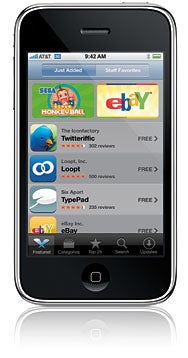 As announced when Apple first unveiled its iPhone 2.0 plans in March, the software update is free for iPhone users. iPod touch users can update their software for $9.99.
In addition to outlining iPhone 2.0 features, Apple executives also profiled the iPhone software development kit, which lets developers build native applications for the phone. In a 33-minute demonstration during Monday's keynote, a steady stream of developers showed off the games and other programs that will be available via the App Store later this summer. Companies demonstrating their wares included Sega, Loopt, Pangea Software, TypePad, Cow Music, and Modality. In addition to games, the software included programs for connecting to eBay, mobile blogging , location-enhanced social networking, news, baseball scores and highlights, and medical information and imaging.
"We think we have a fantastic platform here for people to build incredible applications," said Scott Forstall, Apple senior vice president of iPhone software.
iPhone 2.0 also expands Asian language support, with the ability to draw characters with your finger.
"That's another good advantage of not having plastic keys," said Jobs when announcing the enhanced languages.
In response to developer requests, Apple will also be adding a push notification service to its SDK, which will let applications alert you when something happens without having to be running — ideal for instant messaging, for example. Avoiding keeping software running as background processes should avoid any battery life and performance hits. Developers will be able to add badges (similar to what Apple does with the iPhone's Mail), custom alert sounds, or textual alerts (similar to SMS messages currently). This feature will be available to developers in July, but not fully enabled until September.
Jobs also spoke about the enterprise features in the iPhone 2.0 update, highlighting many of the capabilities first showcased at his March demo. New enterprise features will include push e-mail, push contacts, push calendars auto-discovery of Microsoft Exchange servers.
[Updated at 1:59 PDT to include additional information on upcoming iPhone applications, additional language support, and the push notification service.]