At a Glance
Expert's Rating
Pros
Four connection options
No cool fans makes for quiet device
Generous software bundle
Programmable button
Cons
No CD copy of the bundled applications
Average performance
Our Verdict
The LaCie d2 case design has been a staple in LaCie's external hard drive and optical drive business for years. The company has based many products on this basic design, including the Little Big Disk. Over the years, LaCie has implemented design changes, like a bigger button and corrugated cases for better heat dissipation. Recently, with the introduction of the new d2 Quadra Hard Disk, the company has updated the look of the original d2 external drive case to incorporate some of those changes found in those newer products.
The "Quadra" designation refers to the four types of connections that the drive supports: FireWire 400, FireWire 800, eSATA and USB 2.0. Thoughtfully, the drive comes with all four types of cables; which port you'll want to use depends on your Mac. USB 2.0 provides the slowest performance, but USB ports are available on all current Macs as well as most Macs sold over the last 10 years. FireWire 400 is faster than USB 2.0 and ships on all Macs except the MacBook Air ( ) and also has been featured on most Macs for the last decade. FireWire 800 is faster than both USB 2.0 and FireWire 400, but only ships on higher-end models such as the MacBook Pro, iMac, and Mac Pro. However, the fastest connection available on the d2 Quadra Hard Disk doesn't come standard on any Mac—eSATA requires either a PC card to operate on laptop Macs, or an installed PCI card for Mac tower systems. As with most drives using 3.5-inch mechanisms, the d2 Quadra Hard Disk requires external power.
The d2 Quadra Hard Disk works with Apple's Time Machine backup utility, but LaCie also ships its own 1-Click Backup 1.2.1 and Silverkeeper 1.1.4 (which is not Leopard compatible), as well as EMC's Retrospect Express 6.1.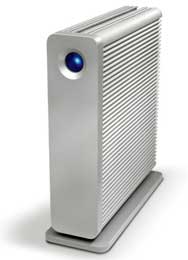 Additionally, the drive comes with LaCie's useful ShortCut Button utility, a System Preference pane that allows you to browse and select just about any application on your Mac to be launched at the push of the big blue button. (I used the blue button to run an Automator application I made that unmounts the disk.) The one minor irritation about the software bundle is the lack of a physical disc copy of the applications; the utilities and applications come loaded on the drive itself and install automatically when you run the included LaCie Setup Assistant. While this is an environmentally friendly (and probably cost reducing) way to deliver the software, if you were to, say, reformat the drive before copying the applications over (like we did) you might find yourself (as we did) downloading the individual applications from the LaCie and EMC websites.
Perfomance
In our testing, we found the d2 Quadra Hard Disk to be good all-around performer. We compared the d2 Quadra Hard Disk to Buffalo's DriveStation TurboUSB ( ), Iomega's UltraMax Hard Drive ( ), Maxtor's OneTouch 4 Plus ( ), Other World Computing's Mercury Elite-AL Pro ( ), SimpleTech's SimpleDrive USB 2.0 External Hard Drive ( ), Western Digital's My Book Studio Edition ( ), and WiebeTech's RTX100-SJ ( ), the d2 Quadra Hard Disk didn't win any of our timed trials, but it didn't come in last in any of them, either.
As mentioned earlier, there was no surprise that the drive performed best when attached via eSATA, but for a single drive device like this, the performance difference may not be worth the effort and expense of buying and installing a third-party eSATA card.
Timed trials
| | |
| --- | --- |
| Copy 1GB file to FireWire 800 | 0:34 |
| Copy 1GB file to FireWire 400 | 0:44 |
| Copy 1GB file to USB 2.0 | 0:53 |
| Copy 1GB file to eSATA | 0:31 |
| Duplicate 1GB file via FireWire 800 | 0:50 |
| Duplicate 1GB file via FireWire 400 | 1:16 |
| Duplicate 1GB file via USB 2.0 | 1:26 |
| Duplicate 1GB file via eSATA | 0:39 |
| Low-memory Photoshop: FireWire 800 | 1:27 |
| Low-memory Photoshop: FireWire 400 | 1:34 |
| Low-memory Photoshop: USB 2.0 | 1:38 |
| Low-memory Photoshop: eSATA | 1:20 |
Times are in minutes:seconds
Specifications
| | |
| --- | --- |
| Price per gigabyte | $.40 |
| Connectors | eSATA (1), FW800 (2), FW400 (1), USB 2.0 (1) |
| Rotational speed | 7200 rpm |
| Other capacities | 320GB, 750GB, 1TB |
Macworld's buying advice
The LaCie d2 Quadra Hard Disk is versatile in terms of connection support, generous in terms of software bundles, and solid in terms of performance. If you're in the market for an external hard drive, the d2 Quadra Hard Disk definitely deserves your consideration.
[James Galbraith is Macworld's lab director.]