Editor's Note: The following article is reprinted from The Industry Standard. For more iPhone coverage, visit the Standard's iPhone page
The most important iPhone announcement from Monday's keynote presentation at the Apple WWDC wasn't the 3G news. Faster speeds were pretty much a given, considering the pokey download speeds of the first-generation iPhones. Nor was it the news about MobileMe. The syncing service is helpful to some of us, but many others—particularly those iPhone owners who use PCs, but not Outlook—won't realize the benefits.
No, the game-changer in the new iPhone package is "Assisted GPS"—if the technology lives up to the hype.
GPS in the iPhone not only will put the fear of God into Garmin, TomTom, and other standalone GPS device manufacturers, but it will also open the doors to a host of new and imaginative services, when combined with the iPhone's other features and online connectivity.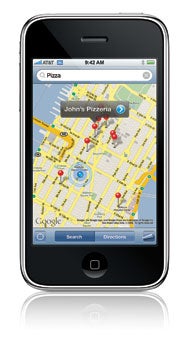 Think of mounting your iPhone on the dashboard, and using the iPhone's GPS/Google Maps functionality to get to the mall, and then using some sort of iPhone-enabled coupon or code to get a discount. Or participating in some kind of massively multiplayer meatspace game that uses GPS, real-world locations, Internet clues, and other iPhone features to play. These are just a few potential uses; the legions of eager developers with the iPhone SDK will come up with lots more in the coming year.
An iPhone/GPS device looks to be yet another disruptive technolgy pairing by Steve Jobs and Apple's talented engineers. It will be interesting to see how the device lives up to the promise, and how competitors scramble to answer the latest Apple broadside.