Yes, I've touched it.
Okay, so maybe touching the iPhone 3G is not as impressive a feat as it was to touch the first iPhone when it was announced back in January 2007. But still, for the next month I've got one up on most members of the general public.
With that in mind, let me tell you what I found.
Fundamentally, this new iPhone feels very much like the old iPhone. It's apparently lighter than the old one by a minuscule amount, but in my hand it didn't feel any different from the current iPhone. The biggest cosmetic changes are on the back panel, which is now shiny plastic instead of metal. The back panel is curvier than the one on the current iPhone, and the recessed headphone jack has been replaced with one which lies flush with the iPhone's body, meaning the days of iPhone headphone adapters are gone forever. (Unless you want to use a microphone with a clicker, in which case you'll still need one!) The iPhone 3G's edge buttons are now silver metal, rather than the black plastic on the current model. The buttons had a sharper edge than I'm used to, though I only pushed them a couple of times.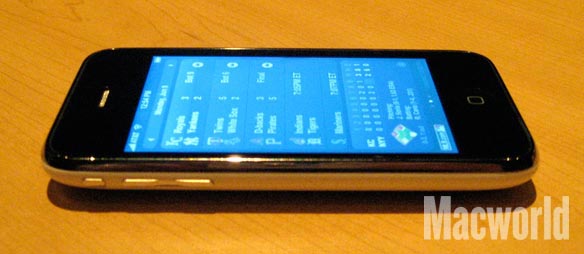 "It feels great in the hand, but in the same volume as the current phone, we've packed in great battery performance for a 3G device," Bob Borchers, Apple's senior director of worldwide iPhone product marketing, told me.
That plastic back should also improve the range and signal strength of the iPhone, for Wi-Fi, cellular, and even GPS purposes, which is good news for anyone who has had signal issues with their current iPhone.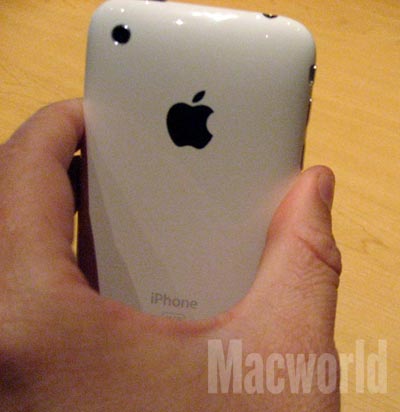 When I asked about the new GPS features of the iPhone 3G, Borchers explained that iPhone's Core Location function—which uses Wi-Fi and cellular tower locations to compute a location on current iPhone models—will simply add GPS to the mix. Since GPS only really works well with a clear view of the sky, the combination of the different location-finding approaches give the iPhone three different ways to figure out where you are. And photos will be geo-tagged—in other words, when you take a picture, the picture will contain metadata indicated exactly where you were on the globe when you took it.
Apple won't be providing detailed map data for the iPhone, instead relying on data streamed over digital networks from Google's servers. Into this breach will most likely step third-party software developers: in fact, GPS-maker TomTom says it's already got iPhone GPS software ready to go, and I'd expect a lot more competition in this area too, providing features like audio feedback and detailed maps that can be pre-loaded on the iPhone, so if your data connection vanishes, you can still find your way.
Now let's talk battery life. The iPhone 3G is rated for up to 10 hours of talk time on a 2G network, or up to 5 hours on a 3G network. That's not too surprising—3G radios use up a lot of power. That's one reason why last year's iPhone didn't do 3G.
"Fundamentally, 3G radios are different from 2G. 2G radios have been around a long time, so they're more optimized," Borchers said. "Five hours for 3G is a great benchmark in and of itself. What we've been able to do is be very aggressive on power management to achieve those numbers."
If you need to squeeze more life out of your battery, you can turn on a setting in the iPhone's preferences that will force it onto the 2G network, though Borchers suggested that "the vast majority of customers will want to stay on 3G."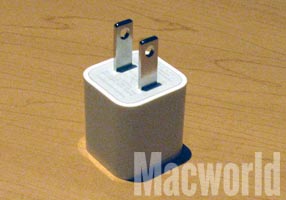 Then there's the new, laughably small, iPhone power adapter. The old adapter looked like a tiny version of the iPod or MacBook power brick. This one looks like of those plug adapters I had to buy in order to plug a three-pronged electrical cord into an outlet that only had two prongs. On one side are two prongs, and on the other side, a USB port. That's it. I don't know who at Apple is obsessed with tiny power adapters, but just when you think they won't get any smaller, they do.
I didn't get much time with the phone, though I did run a couple of third-party programs. Major League Baseball's scores-and-highlights app was impressive, letting me flick through different line scores. I was able to quickly call up the still-in-progress Yankees-Royals game and watch Alex Rodriguez accumulate several points for my fantasy team by hitting a two-run homer. AT&T Park in San Francisco offers a similar service for in-game Giants highlights, but it's unwieldy in the Web-browser interface. This app-based approach works much better.
I also played a little Super Monkey Ball. I found controlling the little monkey in the ball to be pretty difficult, though perhaps I was holding the iPhone wrong. Still, the graphics and frame rates were quite impressive. Maybe not quite up to the level of the Nintendo Wii at home, but definitely good for a handheld game system. (Didn't you know that the iPhone was a handheld game system? Well, it is now.)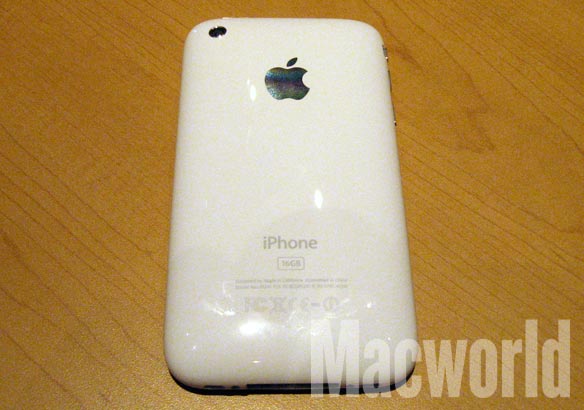 I think I've emptied my notebook of the observations I managed to glean in my 15-minute session with Apple. Feel free to ask questions in this article's comment thread.