Veterans of Apple-focused trade shows may have noticed a significant change of pace at this year's Worldwide Developers Conference keynote and the Mach rollout of the iPhone SDK. Gaming—long an area that Apple has, quite frankly, given short shrift—has been featured front and center. Say what you want about the moribund state of Mac gaming, but Apple is clearly on message when it comes to iPhone's potential as a gaming device.
It's little wonder. Gaming on mobile platforms has been a burgeoning market for a while, and the iPhone's accelerometer and touchscreen make it a natural for a new breed of games that is hitting the market in the wake of the success of Nintendo's Wii console, which uses hand-held controllers that offer gesture-based interaction. Adopting tilt and touchscreen actions is a logical evolution—in fact, it's similar in principal to Nintendo's DS touch screen display, which has been enormously popular for the last several years.
The iPhone's game potential has given a new opportunity for Mac game veterans to make their mark in the iPhone space. Joining Steve Jobs on stage at Monday's WWDC keynote was Brian Greenstone, the man behind Pangea Software, which develops games such as Nanosaur and Bugdom for the Mac. Greenstone's first two productions for the iPhone are Cro-Mag Rally, a kart racing game, and Enigmo, a kinetic puzzle game. If they sound familiar, it's because both games have been released for the Mac before. Greenstone adapted his source code to run on the iPhone instead, and both games seem to make a natural transition to the mobile device. Other Mac game developers are also in town this week, catching up on the many iPhone development sessions Apple's offering in Moscone West throughout the week.
It's heartening to see the market appear to settle on pricing for these games, as that is an issue that, in the weeks and months leading up to WWDC, has been very much on the minds of developers, publishers, and industry insiders. "What is the most that people will pay for an iPhone game?" is one of the most frequently asked questions I've fielded in my conversations with iPhone developers. And if the news coming out of the keynote is any indication, the market seems to have settled on $9.99 as being the "sweet spot" for a premium game.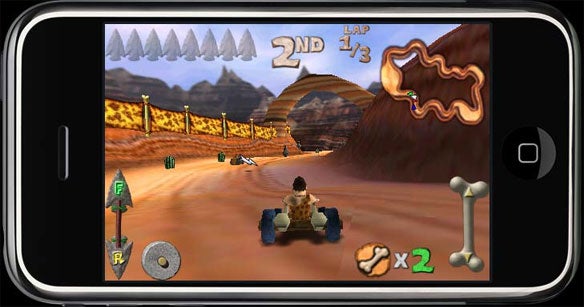 This is double the price of iPod games available for purchase through the iTunes Store, which cost $4.99 each. But many of those games are little more than rehashed versions of BREW or Java-based games already made for mobile phone platforms. Despite some gems here and there, iPod games are, for the most part, a forgettable lot. Judging from what was shown at the Moscone West center on Monday, the iPhone is going to offer a considerably more compelling gaming experience.
The question still remains as to how big the iPhone gaming market will be and how many companies—both major and minor—the new iPod third- party software ecosystem can comfortably sustain. But Apple will run the App Store and thus will provide the mechanism for all of these companies to compete, from independents like Pangea all the way to multi-billion dollar publishers like Electronic Arts. Hopefully that will level the playing field and will give developers with a keen sense of what's cool and what's fun an opportunity to shine.