TransGaming on Tuesday announced the launch of GameTree Online, a distribution portal Web site for Mac games. The service launched earlier in 2008 as a beta version, but this announcement marks GameTree Online's official debut.
TransGaming is the company behind recent Mac game releases such as CCP Games' online role playing game EVE Online, EA's 2007 Mac releases and many others. They leverage their own virtualization technology called Cider to enable games originally developed for Windows to run on Intel-based Macs.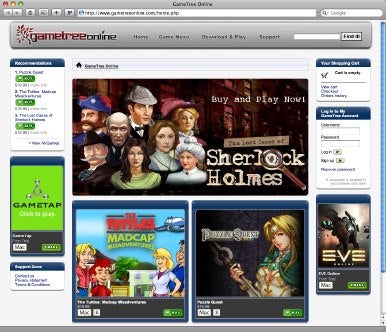 TransGaming is using GameTree Online as a way to release games directly, rather than doing so through third party publishers. TransGaming said the service enables users to obtain game news, participate in promotional opportunities and write their own reviews as well. TransGaming plans to offer a mix of strategy, action, sports and family games through the service.
TransGaming is also reaching out to publishers and developers interested in using GameTree Online as a way of distributing their "back catalog" of games — titles that may no longer be available in retail stores, but may have a viable opportunity to reach new Mac users online. The company wants publishers to utilize its Cider technology and have those titles distributed through GameTree Online.