Editor's Note: The following article is reprinted from PC World. For more on digital cameras, visit PC World's Camera topic center.
Canon says its least expensive digital SLR camera, the EOS Digital Rebel XS, will replace the current EOS Digital Rebel XTi later this summer. The company bills this model as the little brother of the recently released EOS Digital Rebel XSi—and with good reason.
According to Canon, with the introduction of the Digital Rebel XS, the company is changing its approach to rolling out digital SLR models. Previously, notes Chuck Westfall, technical advisor at Canon USA, when a new model came out, the older model had a price drop and overlapped with the newer model. Following closely on the Digital Rebel XSi, the XS creates a pair of cameras in the entry-level "that share a lot of the same technology," he adds. "The cameras are otherwise like clones of each other. It's easier for us to do it that way from a manufacturing and design standpoint."
The Digital Rebel XS has the same 10.1-megapixel resolution and 2.5-inch display as the Digital Rebel XTi it's replacing. The new XS will ship with an 18-55mm f3.5-5.6 IS lens; previously, the XTi came with the version of that lens that lacked image stabilization. The Digital Rebel XS weighs 2.5 ounces lighter than the XTi did, making it Canon's lightest digital SLR to date.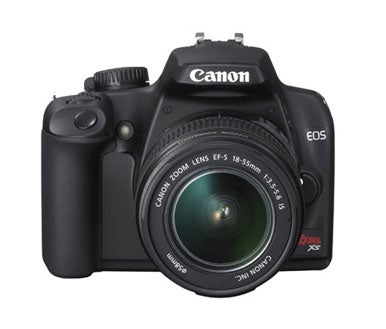 The XS adds Live View, as you find on the XSi. It also has a better buffer burst-shooting rate than did the Rebel XTi: Unlimited JPEG burst rate at 3 frames per second, versus the XTi's 27 JPEGs at 3 frames per second. The burst rate is impressive; even the XSi is limited, to 53 JPEG images.
Canon says it has improved the battery life on the XS by 50 percent as compared with the XTi. The camera will come in black and chrome versions; typically, digital SLRs come in one color only.
As compared with the Digital Rebel XSi, the new Digital Rebel XS' specs fall just short of its bigger sibling. The XSi boasts a 12.2 megapixel sensor, a 3-inch display, and a 9-point autofocus system (versus the XS model's 7-point autofocus system).
This week's announcement is a global one; Canon USA won't announce specifics about the U.S. versions pricing or availability until July 8. However, Westfall does say he expects the camera to ship sometime this summer, and for the price to be in the same range as the Digital Rebel XTi the XS replaces. The Digital Rebel XTi sells for $599 for the body only, and $699 in a kit. The current Digital Rebel XSi is expected to cost about $200 more than new XS.