Whenever Apple releases a new iPod, one of the first questions people ask is, "Will it work with all the gear I bought for my last iPod?" Now that Apple's announced the iPhone 3G, the first successor to the original iPhone, users find themselves asking a similar question with respect to their iPhone gear.
Given that the iPhone 3G won't be in our hands for another month, we can't give you any definitive answers. But based on what we do know, here's a bit of speculation as to what will and won't work.
Headphones: In a change that, when announced during the keynote, drew some of the loudest applause from the audience, the iPhone 3G no longer uses a recessed headphone jack; its jack is instead flush with the body of the phone. This means you'll be able to use any standard headphones (meaning those with a 1/8-inch stereo miniplug) with the latest iPhone without needing an adapter. (Although if you want a microphone and control button, you'll need a headset adapter or a dedicated iPhone headset.)
Headsets: It's likely a safe assumption that, apart from no longer being recessed, the iPhone 3G's headphone jack is identical to that of the original iPhone. Which means that third-party iPhone headsets—which include an inline microphone and controller—should work fine with the iPhone 3G. Similarly, the iPhone 3G's Bluetooth support should work fine with Bluetooth phone headsets. (Unfortunately, it doesn't appear that Apple has added A2DP support for stereo audio over Bluetooth.)
Cases: If you were hoping to use your current iPhone case once you upgrade to the new phone, you're out of luck. As Apple touts, the iPhone 3G is thinner at the edges than the original, thanks to a curved, plastic back. (Jason Snell actually got to hold one yesterday, lucky dog.) This new shape means you'll need a new case, but not to worry—a number of case vendors have already announced updated models.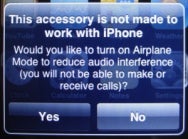 Dock-connector accessories: Just like the original iPhone (and every post-2002 iPod except the shuffle), the iPhone 3G includes Apple's proprietary 30-pin dock-connector port. As I noted when the first iPhone was released, this means the iPhone 3G should work with many accessories for the iPod, such as speaker systems, cables, adapters, chargers, and batteries.
However, I'm assuming the same caveats will apply to this iPhone as did with the original. First, if a speaker system isn't officially "Made for iPhone," placing the new iPhone in the system's dock cradle will display a message that the iPhone's wireless features may cause audio interference with the speaker system—and asking if you want to switch to Airplane Mode. (If you don't place the iPhone in Airplane Mode, the iPhone will still play through the speakers, but you may hear varying amounts of static and buzzing, especially when a call comes in.)
Second, like the original iPhone—and unlike every iPod released in the past few years—the iPhone 3G doesn't include a dock adapter for Apple's Universal Dock design. If you have an accessory that uses a Universal dock cradle, you'll need to buy Apple's "iPhone 3G Universal Dock Adapter 3-Pack." The new adapter pack hasn't yet appeared on the online Apple Store, although Apple still sells an adapter pack for the original iPhone.
(As with the original iPhone, and every iPod, you can also plug in any "computer" speaker system—one that connects to a standard headphone jack—and then control volume using the iPhone's own volume level.)
Other accessories: Until we have an iPhone 3G, we can't give you a definitive answer on other types of accessories, such as FM transmitters, remote controls, and microphones. However, unless Apple has made considerable changes to the iPhone 3G's hardware and software compared to the original iPhone, we expect much of what we said about the original to hold true with its successor.
Once we get the iPhone 3G, we'll do plenty of real-world testing. And we'll of course be covering the deluge of iPhone 3G accessories that's sure to start any second now.