iTunes can easily share its content over your local network. But if you want a complete copy of your media library on more than one Mac, you'll need to synchronize some files. However, merely copying, say, a folder full of AAC files from one Mac to another is not enough; you must also copy the iTunes Library files containing metadata, playlists, and other important information. And therein lies the rub: If you've changed the contents of iTunes on both Macs, merely copying the iTunes Library files in one direction or the other (manually or with a file-synchronization utility) won't synchronize their contents, so neither iTunes library will be correct. For example, songs present on both Macs' hard disks may not actually show up in iTunes on one Mac or the other, and one Mac's playlists might entirely overwrite the other's.
The best way to solve this problem is with a specialized synchronization utility that not only copies music and video files between computers but also updates the iTunes Library as necessary on both sides. One option is SocketHead Studios' myTuneSync ($30 for three computers).
You begin by installing myTuneSync on each computer you want to sync (this can include Windows PCs running iTunes). After you select another computer on your network to function as a peer, choose a category of iTunes content to sync with that peer-that could be everything or, say, only audio files or only unprotected video files. If you want to be more specific about which content to sync, you can set up one or more rules (much like iTunes smart playlists) that include or exclude tracks based on criteria such as artist, name, genre, or size. You can then sync manually or automatically-and during each sync, you can opt to include or exclude individual tracks from among those that meet your criteria. This utility has a wide variety of other options, such as the ability to sync metadata (such as ratings and play counts), the ability to password-protect each computer, and the ability to restrict shared tracks to a particular playlist.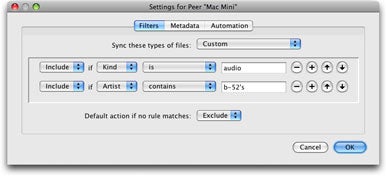 If myTuneSync doesn't offer all you're looking for, a different utility may serve you better-such as Sonzea's Syncopation 2.0.1 ($25 for up to five Macs) or Martian Technology's SlingShot 2.0 ($30 for unlimited Macs), which also functions as an all-purpose file-synchronization tool. Both programs let you share one or more individual playlists from each of your Macs rather than using rules to specify what should be shared. With Syncopation, you can choose to include or omit movies, podcasts, and TV shows from your syncs. SlingShot also lets you assign a separate password to protect each shared playlist.