For all that the iPhone can do, it's surprising when you run up against some of its more prominent limitations. Take file storage, for example. There's a decent amount of capacity on the iphone, but there's no way to leverage that to move your files around, without resorting to emailing them to yourself.
The team at Ecamm Network first approached this dilemma with their Mac-based app PhoneView ( ), originally iPhoneDrive. PhoneView let you store files on your iPhone, but it had its limitations: you couldn't view the files on the phone, and you had to physically connect the phone to your Mac in order to use it.
With the release of the beta SDK, Ecamm's decided to tackle this problem from a different direction—or rather, from two directions at once. The result is FileMagnet, which Ecamm developed in conjunction with Magnetism Studios. Ecamm co-founders Ken and Glen Aspeslagh showed me a development version of the application Wednesday.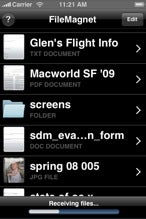 FileMagnet is composed of two parts: a Mac-based client and an iPhone app. The Mac app acts as a queue: drag a bunch of files into the application window or onto its Dock icon, and FileMagnet will queue them up. Then, when your iPhone is on the same Wi-Fi network and you launch the phone application, your Mac will automatically start transferring all the files that you've queued to your iPhone—no cables necessary.
But that's only part of what FileMagnet can do. Once you've got files on your iPhone, then what? Are they trapped there forever? Well, the iPhone version of FileMagnet can also be used to view all the files that you've uploaded: PDFs, Word docs, text documents, pictures, etc. (while you can transfer movie and audio files, Ecamm's still working on support for viewing those files). The app will even display preview icons of all the files on your phone, so you can tell photos and movies apart at a glance. And, as you'd expect, most files can be zoomed and panned using the standard touch gestures.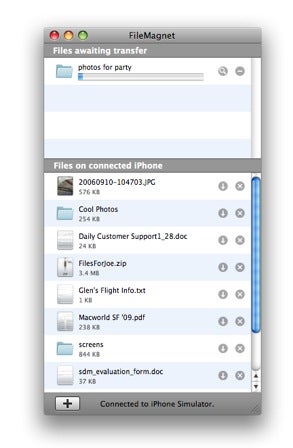 What's more, since the Mac client of FileMagnet shows you all the files on the iPhone where the application is running, you can download or delete files on your iPhone directly from your Mac (you can also delete files on the iPhone using the same swipe-delete gesture as the iPhone's Mail client).
Ecamm co-founder Ken Aspeslagh explains that FileMagnet is great for those times when you need to view your files on the go. "You just downloaded a PDF, you're running out the door, you don't have time to upload it to a website." And since FileMagnet on the iPhone can talk to the Mac client on different computers, it's a handy way to transfer a file to your buddy's computer.
Ken also told me iPhone-to-iPhone transfer is in the cards as well, but it may not be in the first release of the app. As of yet, they have also not determined the price or availability of the application.