Mike Taylor from Hey Mac Software is one of the developers that came to this week's Worldwide Developers Conference to take advantage of advances in native iPhone application development. Taylor has developed an application that will allow users to transfer files to and from their iPhone wirelessly.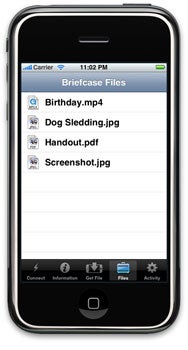 Dubbed Briefcase, the application gives users an iPhone interface to connect to any local Mac using Apple's Bonjour zero-configuration networking technology, or over the Internet if the remote computer has an IP address.
The connection to the computer uses SSH, so the networking connection is secure. You can connect and login to any Mac (or other computer that utilizes SSH) that you have the password to.
Briefcase a uses hierarchal menu system similar to what Mac OS X's Finder looks like—for Windows users, it is also similar to the iPod menu system.
Once connected, you can use the bottom toolbar (pictured below to the right) to complete whatever transferring tasks you want. You can get a file, browse the files currently on the iPhone, look at the activity and get information on the computer you are currently connected to.

Getting a file is as easy as tapping on it in the iPhone interface. The file is immediately transferred to Briefcase on you iPhone. The information tab shows you the local computer's name, OS version and memory, although Taylor said more options will be available here in the future.
When you click to see the files on your iPhone, you have several options. You can upload the file to the remote computer—whether it's to the Desktop, Downloads folder or Documents folder. You can also view the image on your iPhone or set the desktop background of the remote computer to the image you are looking at.
Taylor said the app will be ready in the Fall 2008 and will cost $5 via Apple's App Store.