Editor's Note: This story is excerpted from Computerworld. For more Mac coverage, visit Computerworld's Macintosh Knowledge Center.
When Apple CEO Steve Jobs took the stage on Monday at Apple's Worldwide Developer's Conference, the focus of attention was on the new iPhone 3G and iPhone 2.0—the coming firmware update for all iPhones that will bring with it a slew of new apps.
But one of the most important announcements concerned Apple's new suite of online services, called MobileMe. Think of it as a revamped .Mac with an eye on tying the iPhone to what has until now been largely a syncing/storage/Web-based tool. Oh, and say goodbye to .Mac, which will disappear next month, replaced basically by .me. Old .Mac e-mail accounts and Web pages will still work fine. But the emphasis will be on "Me." In fact. .Mac e-mail addresses can be converted to .me addresses once .Mac users are upgraded to MobileMe.
MobileMe, which will offer twice the storage space now allocated for .Mac members—20GB instead of 10GB—will continue to cost $99 a year.
What's new now, and what's important, is the emphasis on the push technology unveiled in the upcoming iPhone 2.0 software update. On the business front, that software adds direct integration for Microsoft's ActiveSync technology out of the box. This eliminates the added server, software and licensing costs inherent to the Blackberry platform and simplifies the job of IT support. By licensing Microsoft's ActiveSync technology, Apple is making the iPhone platform a real alternative to the popular BlackBerry, which offers similar 'push' functionality. For those without access to an Exchange server and Active Sync, MobileMe offers a solution.
Put simply: Exchange enables push technology for business users; MobileMe means push technology for the rest of us.
When it comes to push technology, the iPhone currently has to "poll" or constantly ping a server for status updates, usually at set intervals. E-mail on the iPhone, for example, currently uses this polling technique to check for new mail—a setup that hits battery life and can eat up processor cycles. That's because this polling often runs as a background application. The reduction in battery life is noticeable when the iPhone is set to check for e-mail every 15 minutes instead of, say, every 30 minutes. Once the push technology is in place, the iPhone will be automatically alerted when e-mail arrives or when any actions occur in applications that take advantage of push.
During Jobs' WWDC keynote, Apple noted that developers will be able to incorporate this type of push technology into their applications instead of using traditional background processes. The decidedly inconvenient caveat is that this API won't be available to developers until September. (Exchange and MobileMe push support will be available in early July, however, with the next iPhone software update.)
Keep that September time frame in mind if you're still awaiting instant messaging (IM) software like iChat that can alert you about incoming messages—even if the application isn't running. Jobs noted that IM software would be one of the beneficiaries of the new push API, though developers can implement the feature in their apps however they choose.
Read more MobileMe coverage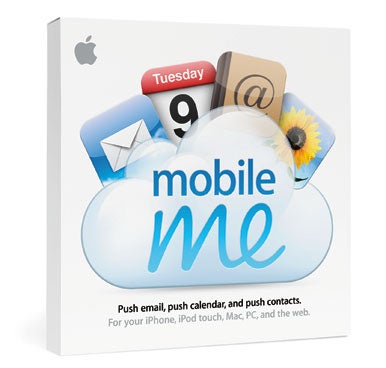 MobileMe isn't just about pushing out data to the iPhone. It's also a replacement for Apple's current .Mac Web services, which currently include: online storage, e-mail addresses, contact and calendar syncing across multiple computers, Back to my Mac and photo-sharing. While the majority of functions in MobileMe are similar to those in .Mac, one of the big differences is that Apple is making MobileMe accessible to iPhones and iPod touches—and it has made the service entirely cross-platform. Once MobileMe rolls out, Windows users will be able to sign up for Apple's previously Mac-only Web services.
Apple is doing this by bringing the equivalents of its Mac desktop applications to the Web using the AJAX programming language—effectively bringing a measure of "cloud computing" to Mac and Windows users. The Web-based apps, which appear to work just as their desktop equals do, can be accessed on a Mac via Safari 3 or Firefox 2; Windows machines require Safari 3, Firefox 2, or IE 7.
PC users can expect to find that MobileMe works with Outlook and Express, Safari and IE—and with the Windows contact applications. PC users can even sync data such as calendars, contacts, e-mail and bookmarks across multiple machines and Apple devices.
Current .Mac users take note: most of the features now in place will remain, including: Back to my Mac, iDisk Finder access, photo- and file-sharing from the iApps and Aperture, iWeb publishing, and the syncing of contacts, calendars, and bookmarks across multiple Macs. Some services, however, like Apple's iCards and the .Mac slide show—it allows you to share photos as screensavers with others—didn't make the cut. Apple has not said why.
On the plus side, in addition to the doubling of individual storage space to 20GB, the MobileMe Family Packs will receive 40GB of storage (20GB for the main account, 5GB each additional for four accounts). As before, Apple allows users to pay for even more storage.
Apple's iPhone-based announcements this week are a clear indicator that the company is positioning the iPhone as its next major platform. Between the iPhone hardware upgrades, software and application support, and now over-the-air data-push for consumers, Apple is clearly intent on distancing itself from other smartphone makers. By offering users a feature long taken for granted by business users, Apple's new service turns its iPhone into an extremely mobile extension of the desktop, allowing not only for mobile computing and communication but making it easy to do and virtually ubiquitous.
[Michael DeAgonia is a Neal-award winning writer, computer consultant and technologist who has been using Macintoshes and working on them professionally since 1993. His tech-support background includes tenures at Computerworld , colleges, the biopharmaceutical industry, the graphics industry and Apple. Currently, he is working as a Macintosh administrator at a large media company.]