At a Glance
Expert's Rating
Our Verdict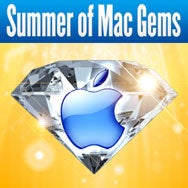 Editor's note: The following review is part of Macworld's Summer of Mac Gems series. Each business day until the middle of August 2008, the Macworld staff will use the Mac Gems blog to briefly cover a favorite free or low-cost program. Visit the Mac Gems homepage for a list of past Mac Gems.
Duplicate files are fact of life in today's world of super-large hard drives—from duplicated client folders to applications that exist in more than one spot, most people have had trouble with duplicated files at some point in time. Hyperbolic Software's Tidy Up! is a powerful solution to for finding and removing these space wasters.
Tidy Up! lets you specify which hard drives and/or folders to search for duplicates. You then build a query to identify duplicate files based on your own conditions—you're not limited to simple filename comparisons. You can compare files based on modification date, creation date, type, extension, creator, size, contents of the data and resource forks, and even if the files are empty. There's also a predefined set of tasks accessed via a drop-down menu. You can find duplicate images in iPhoto, songs in iTunes, and applications via this menu, for instance.
A 60-page manual explains all of the options, and does so in an easy-to-follow manner. While not cheap, Tidy Up! is very powerful and good at what it does.