For Digital Legends, it's been a whirlwind month. Prior to May the company had no experience developing for Mac OS X or the iPhone, but earlier this week, its newest game in development, Kroll, was featured on the keynote stage at WWDC.
The Barcelona, Spain-based game developer's engineering team has a background in PC, console and smartphone game development, but the iPhone was brand new territory, according to Unai Landa Bonilla, the company's handheld technology director.
"We decided that Kroll would be a side-scroller, that that would provide the best experience," said Bonilla. "All the things you need to make a great side-scroller are there in the iPhone's controls."
Players use the iPhone's accelerometer to jump up and down and can use touch-screen controls to activate weapons and other actions in the game.
"We call it 2.5D, because we're using polygons and 3D artwork," said Bonilla. "But the gameplay is similar to console games like God of War and Shadow of the Colossus, so we needed to find easy-to-use controls."
In addition to making it easy to play, Digital Legends is concerned with making Kroll accessible to people who don't have a lot of time to play.
"If you're waiting for your latte, probably you want to play and have a rewarding two-minute experience," said Xavier Carrillo Costa, Digital Legends' CEO. "So iPhone games need to be compelling, easy to play, and graphically very appealing, but at the same time having enough depth to play for an hour while you're commuting."
Kroll won't be ready when the iPhone's App Store debuts in July, so Digital Legends is continuing to develop the game, to work on perfecting the gameplay and providing the best iPhone gaming experience it can. The company hopes that by doing so, they'll be part of a wave that will attract more attention to the iPhone as a gaming platform.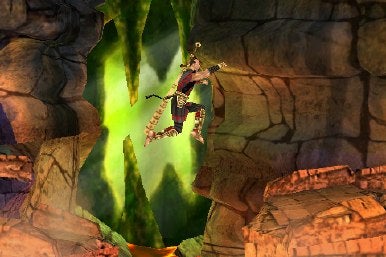 "The Mac community is a very close community," said Costa. "It's very strange for me to come here [to Moscone West] and not know anyone, compared to the Game Developers Conference, where I can't walk ten feet without seeing someone I know. But a lot of people who are outside the traditional Mac market and are watching and interested in what happens with iPhone."
Costa predicts that if iPhone gaming takes off as he and other developers expect it to, major publishers will make an attempt to muscle in and claim the space for themselves. But rather than partnering with a large publisher, Digital Legends is taking a risk by publishing Kroll itself. Costa figures that his company can weather the risk.
"Original intellectual property means more risk for a publisher," said Costa. "But I think the iPhone will be a great laboratory for original IP."
What makes Kroll's development even more exceptional is that it is, so far, an iPhone exclusive. Digital Legends wants to spread its game designs as far and wide across as many platforms as possible, and Kroll is no exception. But they're seeing how it does on the iPhone first.
"We're hoping that this is the first in a very, very long line of original iPhone games from Digital Legends," said Costa.