Wednesday Apple handed out its annual Apple Design Awards in 11 categories, including six awards honoring development on the iPhone for the first time.
Mac Awards
Best Mac OS X Leopard Student Product This category highlighted Mac OS X Leopard applications developed exclusively by student developers.
Best Mac OS X Leopard Graphics and Media Application This category highlighted the best Leopard "graphics and media solutions providing unparalleled functionality, performance, innovation, and stunning visuals and/or audio," according to Apple.
Best Mac OS X Leopard User Experience This category highlighted "excellence in design, aesthetics, ease of use, compelling and appropriate use of animation, and pervasive integration with built-in Mac OS X Leopard system services and sharing technologies."
Apple's John Geleynse, who co-hosted the awards presentation, said that this category is focused on apps that follow the human-interface guidelines, present high-fidelity graphics, are very easy to use, and offer innovative ways of doing things. He also noted that this was the most popular category, with the highest number of submissions.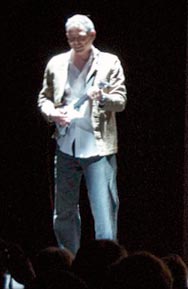 Best New Mac OS X Leopard Game This category highlighted "games introduced on Mac OS X Leopard after June 2007, which take full advantage of relevant Leopard technologies and offer the best entertainment value to all ages." Geleynse said that a big part of Apple's weighting in this category was based on performance, playability, and technology adoption.
Best Mac OS X Leopard Application This category highlighted "trend-setting, innovative, best-of-breed Mac OS X Leopard applications."
iPhone Awards
Best iPhone Web Application This category highlights "web applications designed specifically for Safari on the iPhone, which offer iPhone users innovative, compelling, valuable, and highly desirable capabilities." Geleynse pointed out that there are over 1,700 web applications now listed on Apple's iPhone web apps page—that's a rate of over 120 per month since the iPhone's launch last June.
iPhone Developer Showcase This category highlights "innovative and compelling new iPhone applications built using the Beta iPhone SDK." Since the iPhone App Store hasn't appeared yet, these programs are all pre-release, feature-complete versions which run within the iPhone simulator or on an iPhone or iPod touch.
What really makes the five winners in this section stand out is that they only had just over two months to build their programs—the SDK was announced on March 6th, and entries for the Apple Design Awards closed on May 12th. Given that time restriction, what we saw last night was simply amazing. In the order they were presented, here are the winners. Note that because these programs are all pre-release, we don't have complete information (pricing and URLs) for most of them. Where possible, we've provided what information we could find.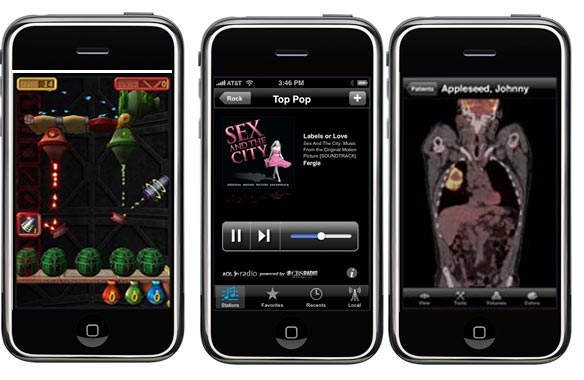 According to Apple, winners of Apple Design Awards receive two 15-inch MacBook Pro laptops, two 30-inch Apple Cinema Displays, one 16GB iPod touch, one 8GB iPhone, an ADC Premier Membership, reimbursement for one WWDC 2008 E-ticket including airfare and accommodations, and one 2009 ADC Macworld Expo Exclusive Marketing Package. The Best Mac OS X Leopard Student Product category winner receives one 15-inch MacBook Pro laptop, one 30-inch Apple Cinema Display, one 16GB iPod touch, one ADC 2008 Student Membership, reimbursement for one WWDC 2008 E-ticket including airfare and accommodations, and one 2009 ADC Macworld Expo Exclusive Marketing Package.
The awards were judged by 50 Apple employees, split into teams in order to evaluate the high volume of submissions. In evaluating applications, the judges considered six criteria: platform innovation, user experience, technology adoption, performance optimization, automation, and sharing and integration.
The weightings for the criteria may vary depending on the category—the games category, for instance, places more emphasis on performance optimization, while the best application category weights each criteria equally.
The Apple Design Awards truly showcase the best in OS X—and now iPhone, too—software development. The winning applications all looked incredible, took advantage of technologies in OS X and the iPhone, and they all seemed to have amazingly easy-to-use interfaces. Given how complex many of these programs are, that's a real feat, and the winners definitely earned their prizes. Congratulations to all the winners!