Wednesday Apple handed out its annual Apple Design Awards in 11 categories, including six awards honoring development on the iPhone for the first time.
Mac Awards
Best Mac OS X Leopard Student Product This category highlighted Mac OS X Leopard applications developed exclusively by student developers.
Winner: Squirrel (€7) by Axel Peju. Squirrel is an incredible-looking personal finance application that takes full advantage of Leopard's developer features such as Core Image, Core Animation, and Core Data. As I was watching the demo, however, I could think of only one thing: "Holy cow, this thing makes Quicken look like it was designed in the 1960s!" Its reports are stunningly beautiful—and very easy to read, as well. The interface makes great use of animation to show you the details behind your financial data, and the program offers a host of features to make this mundane task somewhat less mundane.
Runner up: Flow ($29) by Brian Amerige. Flow is a new file transfer program that handles FTP, SFTP, WebDAV, .Mac, and local (Mac-to-Mac) transfers. It's written exclusively for Leopard, and includes such features as a powerful built-in text editor, copying of remote URLs for pasting elsewhere, Quick Look previews, and "dropmarks," which are mini-apps that you can use as droplets in the Finder.
Best Mac OS X Leopard Graphics and Media Application This category highlighted the best Leopard "graphics and media solutions providing unparalleled functionality, performance, innovation, and stunning visuals and/or audio," according to Apple.
Winner: ScreenFlow ($100) by Vara Software. ScreenFlow is a program that captures screen movies. But describing it in that simplistic manner is like saying OS X is an operating system. It's what you can do after capturing a movie of your screen that sets ScreenFlow apart—it's more like a miniature version of Final Cut, targeted directly at those who record screen movies. You can add effects such as zooms on the window or cursor, fading of the background to focus on the zoomed-in area, keyboard tapping sound effects to match typed input, cropping, reflections, and rotation, and much more. Read our Mac Gems write-up on ScreenFlow for more information on the program. I've switched to using ScreenFlow exclusively for my Macworld video projects, and it literally saves me hours of production time on every project.
Runner up: FotoMagico ($49 Express, $129 Pro) by Boinx. FotoMagico is a tough program to describe, but it basically helps you easily turn your photographs into stunning slideshows. Its feature set is huge, and includes a number of unique tools that can really help you create stunning slideshows.
Best Mac OS X Leopard User Experience This category highlighted "excellence in design, aesthetics, ease of use, compelling and appropriate use of animation, and pervasive integration with built-in Mac OS X Leopard system services and sharing technologies."
Apple's John Geleynse, who co-hosted the awards presentation, said that this category is focused on apps that follow the human-interface guidelines, present high-fidelity graphics, are very easy to use, and offer innovative ways of doing things. He also noted that this was the most popular category, with the highest number of submissions.
Winner: Macnification (€249) by Orbicule BVBA. Macnification is a powerful tool to help scientists manage and work with their collections of high-resolution images from microscopes. It's similar to iPhoto, in that both products allow the user to stop worrying about the details of how their huge image collections are stored, and instead focus on working with those images. In the case of Macnification, working with those images includes a ton of different capabilities. I'm no scientist, but the demo of Macnification was simply amazing—it really does seem like iPhoto (or perhaps Aperture is a better comparison) for those who work with microscopic images.
Runner up: Checkout ($399) by Werck BV. Checkout is a point-of-sale (POS) system for retail establishments. POS systems do everything in retail stores—their most visible role is acting as the cash registers for customers purchasing products, but they do much more than that as you can see on Checkout's features page. Checkout brings the Mac's ease-of-use to this critically-important function for retail stores.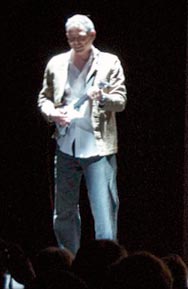 Best New Mac OS X Leopard Game This category highlighted "games introduced on Mac OS X Leopard after June 2007, which take full advantage of relevant Leopard technologies and offer the best entertainment value to all ages." Geleynse said that a big part of Apple's weighting in this category was based on performance, playability, and technology adoption.
Winner: Guitar Hero III ($80) by Aspyr. So you've always wanted to be a rock star? Now's the time, with Guitar Hero III. Live your fantasy by playing guitar in a rock band. The game features a number of Mac-specific tweaks, such as multi-core support. Watching Geleynse do a live demo last night, I can only say that it's probably a good thing he chose to go into the technology, and not music, field!
Runner up: Command & Conquer 3 – Tiberium Wars ($50) by Electronic Arts. A real time strategy game set in the future, featuring stunning graphics, a huge collection of missions, and much more. Our review contains a lot more information on the return of this groundbreaking series to the Mac.
Best Mac OS X Leopard Application This category highlighted "trend-setting, innovative, best-of-breed Mac OS X Leopard applications."
Winner: ScreenFlow ($100) by Vara Software. The night's only multiple winner, it was clear that ScreenFlow captured the judges' attention. Geleynse demonstrated just how easy it is to use ScreenFlow to create compelling screen movies—in about two minutes, he built a movie that showed two separate videos—the screen capture video in one portion of the screen, and a smaller video of himself narrating, which was placed and angled such that it appeared he was looking directly at the captured screen movie. If you do any work with screen movies, ScreenFlow is definitely a tool you should consider integrating into your workflow.
Runner up: Timeline 3D Edition by BeeDocs ($65). Timeline, which I'd never heard of until last night, is an innovative product that helps the user chart time-based events on a stunning 3D timeline. It features integration with iChat, Keynote, and email, and takes advantage of Leopard features such as Quick Look and full previews in the Print dialog. There's a less-expensive 2D edition ($40) as well, but the 3D timelines look absolutely stunning.
iPhone Awards
Best iPhone Web Application This category highlights "web applications designed specifically for Safari on the iPhone, which offer iPhone users innovative, compelling, valuable, and highly desirable capabilities." Geleynse pointed out that there are over 1,700 web applications now listed on Apple's iPhone web apps page—that's a rate of over 120 per month since the iPhone's launch last June.
Winner: Remember the Milk by Remember the Milk. Remember the Milk is a "get things done" style to-do manager to help you manage all your tasks. It can show your task locations on a map, send reminders via a huge number of online services, and uses lists and tagging to help you keep track of your tasks. This web app really feels like a native iPhone application.
Runner up: AP Mobile News Network by The Associated Press. Using this web application, you can easily keep up with local and national news on your iPhone.
iPhone Developer Showcase This category highlights "innovative and compelling new iPhone applications built using the Beta iPhone SDK." Since the iPhone App Store hasn't appeared yet, these programs are all pre-release, feature-complete versions which run within the iPhone simulator or on an iPhone or iPod touch.
What really makes the five winners in this section stand out is that they only had just over two months to build their programs—the SDK was announced on March 6th, and entries for the Apple Design Awards closed on May 12th. Given that time restriction, what we saw last night was simply amazing. In the order they were presented, here are the winners. Note that because these programs are all pre-release, we don't have complete information (pricing and URLs) for most of them. Where possible, we've provided what information we could find.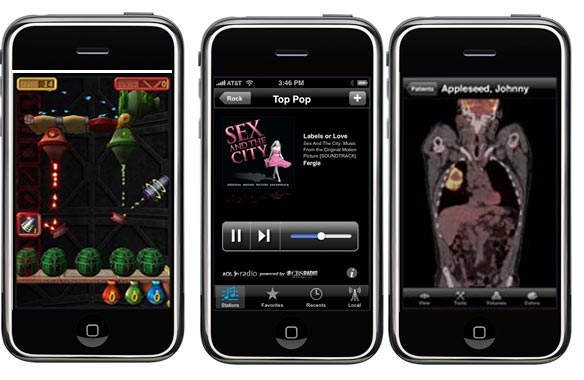 According to Apple, winners of Apple Design Awards receive two 15-inch MacBook Pro laptops, two 30-inch Apple Cinema Displays, one 16GB iPod touch, one 8GB iPhone, an ADC Premier Membership, reimbursement for one WWDC 2008 E-ticket including airfare and accommodations, and one 2009 ADC Macworld Expo Exclusive Marketing Package. The Best Mac OS X Leopard Student Product category winner receives one 15-inch MacBook Pro laptop, one 30-inch Apple Cinema Display, one 16GB iPod touch, one ADC 2008 Student Membership, reimbursement for one WWDC 2008 E-ticket including airfare and accommodations, and one 2009 ADC Macworld Expo Exclusive Marketing Package.
The awards were judged by 50 Apple employees, split into teams in order to evaluate the high volume of submissions. In evaluating applications, the judges considered six criteria: platform innovation, user experience, technology adoption, performance optimization, automation, and sharing and integration.
The weightings for the criteria may vary depending on the category—the games category, for instance, places more emphasis on performance optimization, while the best application category weights each criteria equally.
The Apple Design Awards truly showcase the best in OS X—and now iPhone, too—software development. The winning applications all looked incredible, took advantage of technologies in OS X and the iPhone, and they all seemed to have amazingly easy-to-use interfaces. Given how complex many of these programs are, that's a real feat, and the winners definitely earned their prizes. Congratulations to all the winners!
When you purchase through links in our articles, we may earn a small commission. This doesn't affect our editorial independence.