Plenty of developers have an app in the works for the iPhone, but if you're Magnetism Studios, you've gone a step further than that by prepping four applications. Besides working with Ecamm Network on FileMagnet, the company is also planning to release three other applications for the platform.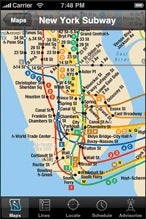 The first program Josh Keay of Magnetism demoed for iPhone Central was MetroMagnet, an application that helps you navigate the trials and travails of public transportation. While there have been other solutions created to do this, Magnetism's Josh Keay explained that what sets MetroMagnet apart is that they've worked to license the maps from transit agencies. At the moment, MetroMagnet only has maps for New York City, but Magnetism is planning to expand to other cities, such as San Francisco and Boston.
Primary among MetroMagnet's features is the ability to view subway maps, complete with pinch-and-zoom functionality. There are a number of different maps available, such as subways, light rail, bus routes—even a vintage subway map. And because the application stores the maps on the phone, you can even access them when you don't have a signal—like, for example, when you're on the subway.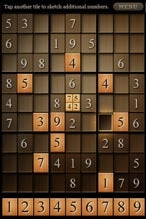 Maps aren't MetroMagnet's only game either: the program can also help you catch a train by letting you look at transit schedules. What's more, MetroMagnet can take advantage of the iPhone's location functionality to tell you where the nearest subway stations are and even send you to the Maps application to help you find your way there.
MetroMagnet also provides transit service advisories, letting you know if a particular line is running late, or if there's a trouble spot you want to avoid. The advisories are pulled from the transit agencies' Web sites, so they're live and up to the minute, though they do require a network connection.
Magnetism hopes to release MetroMagnet when the App Store launches, and plans to sell it for $3.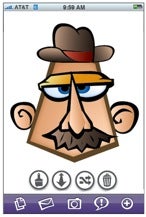 In addition to MetroMagnet, Josh demoed two other apps for iPhone Central. The first was TileSudoku, an iPhone version of the popular pen-and-paper puzzle game. The app takes advantage of the iPhone's touch screen to let you drag and drop numbers into their appropriate spots on the grid. A hinting feature helps speed game play, and you can even sketch in multiple numbers if you're not sure. TileSudoku should be available for $5 when the App Store launches.
Finally, Magnetism also showed off Mr.Shuffle, a simple entertainment app that lets users assemble different cartoony faces from a variety of elements. You also can use the iPhone's camera to take a picture and superimpose cartoony faical features, thought bubbles, and captions over your photos. Mr.Shuffle will go for $3 when released.