At a Glance
Expert's Rating
Our Verdict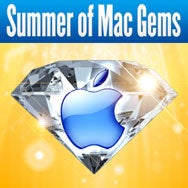 Editor's note: The following review is part of Macworld's Summer of Mac Gems series. Each business day until the middle of August 2008, the Macworld staff will use the Mac Gems blog to briefly cover a favorite free or low-cost program. Visit the Mac Gems homepage for a list of past Mac Gems.
In hibernation mode on a Mac laptop, a copy of your Mac's RAM is written to disk when you put it to sleep. This lets you do things like swap out the battery without losing any information, as the system reads the disk image when you power the machine back on with the new battery.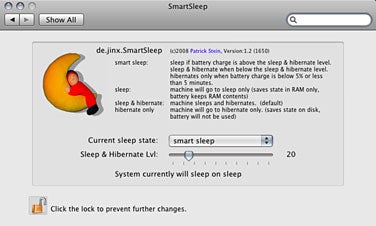 In general, this is an excellent feature, but it does have its downsides—it takes longer to sleep your machine, and you lose as much drive space as you have RAM.
Patrick Stein's Smart Sleep, a System Preferences panel, lets you choose between four different sleep modes:
Sleep and hibernate: Default mode.
Sleep only: No RAM written to disk.
Hibernate only: Power fully off.
Smart sleep: A special mode whereby your machine will generally just sleep, but will sleep and hibernate when the battery is below a certain power level you specify via a slider. If the battery is below five percent charge, then it will only hibernate.
You can easily toggle between these modes, changing your settings as conditions require.