AMD on Thursday announced the ATI Radeon HD 3870 for Mac and PC Edition. The new card is expected to ship at the end of June for $219.
The card works in the PCI Express slots of both first-generation and second-generation Mac Pro systems, and features 512MB of 256-bit GDDR4 frame buffer memory and 320 stream processors. It's designed as a graphics upgrade for Mac Pros — even those that may have come equipped with the Nvidia GeForce 8800 card introduced earlier this year. AMD claims its new Radeon card runs faster and costs less than the GeForce 8800 GT, which is only available from the Apple Store and costs $279.
The card sports two dual-link DVI interfaces, each capable of driving a 30-inch Apple Cinema HD displays. And like the ATI retail graphics cards that have come before it, it also sports an S-Video connector for attaching directly to an analog TV.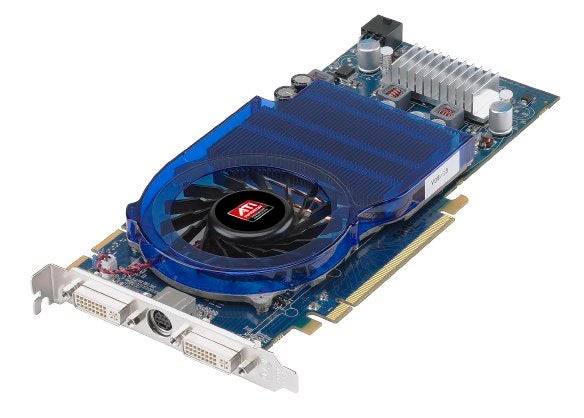 The card supports PCI Express 2.0, working with the faster interfaces of the expansion slots found on 2008-era Mac Pros. But it's also backwards-compatible with the PCI Express architecture of Mac Pros produced previously, so it'll work with either device straight out of the box. And as the name implies, it's also compatible with Windows-based PCs.
ATI said that the Radeon HD 3800 series graphics processors provide up to twice the processing performance per watt that previous-generation AMD graphics processors possessed. The processor itself was crafted using 55 nanometer (nm) process technology, which allowed ATI to cram more processors into less space, and the new card sports "PowerPlay" — an ATI-branded system that manages power more efficiently depending on what you're doing. It's technology originally developed for the mobile market that AMD has integrated into the new desktop product.
The graphics processor can crank up to 70 gigabytes per second bandwidth using a 775MHz engine. That translates, according to AMD's internal benchmarks, into 30 to 180 percent better performance in Apple's Motion 3 software than the GeForce 8800; slow Motion performance has been an Achilles' heel of Nvidia's rival card since its introduction.
Gamers get a boost too — AMD claims the Radeon HD 3870 runs 15 percent faster in Unreal Tournament 2004, and modestly faster than that in Enemy Territory: Quake Wars and Quake 4, all at 1280 x 1024 resolution; 1024 x 768 resolution yields considerably better performance for the latter two games.
The entire board only occupies a single slot, including its fan. AMD confirmed that Mac Pro users can install two boards in the same Mac Pro, driving up to four 30-inch displays simultaneously. Unfortunately, its Mac boards don't support "CrossFire," the technology that AMD offers to PC users that enable them to connect its graphics processors in parallel. So each card would be performing independently.
AMD's Web site had not been updated with information on the new card as Macworld posted this article.