Urbanspoon is a Web site that features restaurant reviews from critics, food bloggers and the general public. They'll be releasing an iPhone application on the App Store in July for free that will tie in to the Web site.
"We wanted to take advantage of the physicality of the iPhone, so we're using the accelerometer," said Urbanspoon co-founder Ethan Lowry. "So we've developed an application for the iPhone that's part slot machine, part Magic 8-Ball."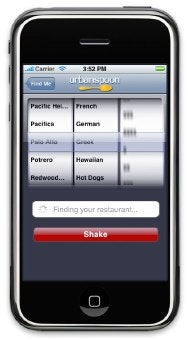 The Magic 8-Ball is a fortune-telling toy manufactured by Mattel that looks like a giant black and white 8-Ball. The underside of the device contains a window; floating in dark blue liquid is an 20-sided die that has one of several yes, no or maybe statements. Urbanspoon's iPhone implementation lets users shake the iPhone for a random restaurant pick. The software relies on the iPhone's location finding — including GPS on Apple's newly introduced iPhone model – to find a restaurant in your area.
Users can, of course, narrow their selections or select a restaurant manually, based on criteria like type of food, location and price.
"The iPhone is toy-like and fun — it's the opposite of the BlackBerry that way," said Lowry. "So we wanted an application to match it."
So far Urbanspoon includes restaurant listings in 41 major markets throughout the United States and Canada.