Newer Technology on Thursday announced its first "green" storage drive, the Guardian MAXimus eMAX. The storage device is compatible with Macs and PCs and is available starting at $259.99.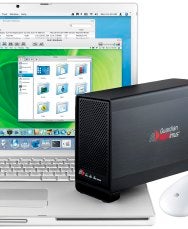 The external storage devices feature triple interfaces: two FireWire 800 9-pin ports, one FireWire 400 6-pin port and one USB 2.0 "B" style port. They're "green" because they use up to 50 percent less power than versus traditionally-powered 1 terabyte drives. They also operate with low noise. The drives feature LED lights that display power and drive status, and indicate if the RAID volume is being rebuilt.
The Guardian MAXimus eMAX is a RAID level 1 device that comprises two drive mechanisms configured together in "mirrored" mode for maximum stability. It's available in 250GB to 1 terabyte (TB) capacities at prices ranging from $259.99 to $569.99, depending on capacity and configuration.