At a Glance
Expert's Rating
Pros
Calendar app supports up to 70 users
Updated to Universal
Cross-platform
Cons
Some functionality lost on Leopard
Few new features
Dated interface
Kludgy interface features
Our Verdict
It's been more than two years since we last reviewed Now Up-to-Date & Contact ( ), Now Software's flagship contact management and calendar applications, and for good reason: very little has changed since we reviewed version 5.0.3. Save for its upgrade to Universal binary and several minor tweaks and bug fixes, Now Up-to-Date & Contact 5.3.2 is the same package it was two years ago—which makes it a very good cross-platform calendar and contact management application that is easy to use and that can support multiple users.
Now Up-to-Date & Contact is actually two separate programs—Now Up-to-Date for calendars and scheduling and Now Contact for addresses—that are integrated and sold as a single package. And though each can work independently, they are designed to be used together. However, they're slated for replacement by Now's upcoming Nighthawk (now in beta), a program that will integrate contact and calendar management into a single, completely redesigned application.
Now Up-to-Date & Contact has a dated-looking interface. Save for a couple of shadowed buttons, the program looks and feels much more like an OS 9 app than OS X. It also retains some frustrating interface elements. For example, categories you define, like "School," "Work," or "Kids," aren't shared between the two programs, and you must create categories and category styles using separate menu items instead of from a single location. You'll also find that, if you're using Leopard, you can't sync contact data to your iPod or sync your existing Address Book data with Now Contact as you could with previous versions of OS X; this limits the value of the program, especially if you're using Apple's Mail app. You can't autofill e-mail addresses in Apple Mail using Now Contact. Now Up-to-Date can import and subscribe to iCal calendars hosted on the Web.
But for businesses that need a shared address book and calendar application, behind the ancient design lies a capable program that is far more scalable than the consumer-oriented combo of Address Book and iCal that ships with OS X. Using any Mac, Now Up-to-Date & Contact allows you to create shared calendars and address books that up to 70 users can access simultaneously over a network or via the Web. It also lets you not only manage employee schedules, but also conference rooms, projectors, and other shared assets.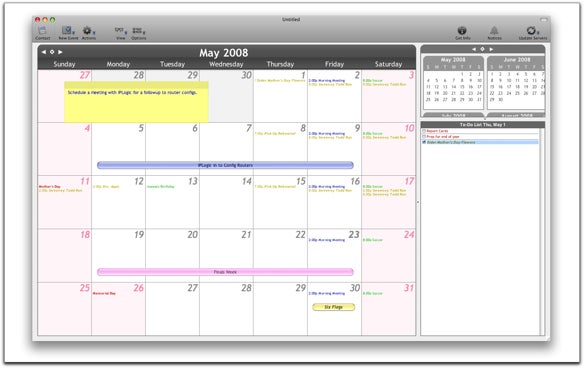 Macworld's buying advice
Now Up-to-Date & Contact 5.3.2 is a very good program for managing contacts and calendars for individuals and small companies. But with Nighthawk, Now's new integrated contact management and calendar program, looming on the horizon, it may be better to wait for what's next.
[Jeffery Battersby is a regular contributor to Macworld. You can read his blog at jeffbattersby.com.]