Ever since the original iPhone let you view Word and Excel documents, users have been asking for more: the ability to edit those documents. During this week's WWDC keynote, Apple announced that the iPhone 2.0 software would add the capability to view iWork documents, but, again, no editing. So as we've previewed upcoming iPhone applications here on iPhone Central, we've been keeping our eyes peeled for software that would fill this important—especially for businesses—request.
We didn't have to wait long: Mariner Software has announced Mariner Calc for iPhone, an iPhone version of the company's popular Mariner Calc spreadsheet program.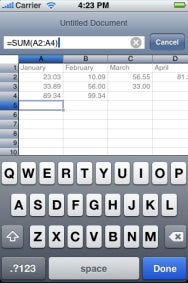 According to Michael Wray, president of Mariner Software, the program is 80 to 90 percent complete and will include a number of impressive features, including the ability to view and edit Excel files in their native file format—no conversion needed. The CocoaTouch application will support spreadsheets up to 1,000,000 rows and 32,000 columns in size, as well as multiple sheets per document. It will even include support for charts and objects.
Wray told Macworld that the iPhone version of Mariner Calc will also "tie in to" new versions of the company's Mac version of Mariner Calc—which will itself use Excel format as the native file format—and the Mariner Write word processor.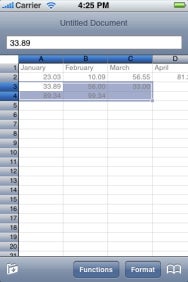 One question that remains about document-centric applications such as Mariner Calc is how they will store and access files, given that applications are in many ways "sandboxed" and don't appear to have filesystem access. According to Wray, the company is working on several approaches to this issue, although he couldn't provide more information at this time.
Given the iPhone's lack of—or at least as-yet-unannounced—support for editing iWork files, I also asked Wray if support for Numbers spreadsheets will be included. Unfortunately, not in the initial release, although Wray told me that the company is definitely considering such a feature for a future version.
Unless Apple or Microsoft announces their own solutions for editing Office documents, I suspect Mariner Calc will prove to be one of the more-anticipated applications for iPhone 2.0. The company hopes to have Mariner Calc for iPhone available "on or shortly after the opening of the App Store." The price has not yet been set.