Ergonis Software on Monday announced the release of PopChar X 4.0, a new version of their software to help you find and type special characters. PopChar X 4 costs €29.99 (US$46.20), and upgrades are free for anyone who has purchased the software in the past two years.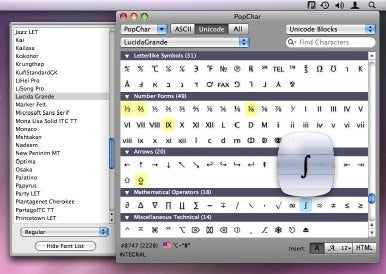 PopChar X is helpful to users who need to find special characters but don't want to spend the time to locate them or remember the special keystrokes needed to generate them. The software pops up a palette that lets you select the character straightaway; selecting the character makes it appear in your current document.
New to the 4.0 release is the ability to view special characters without being limited to the characters available in a particular font. Also new in this release is a command for copying the selected character's Unicode name, support for Unicode 5.1 and improved Leopard appearance support.
System requirements call for Mac OS X 10.4 or later.