Mesa Dynamics has announced the public beta release of Amnesty Hypercube, a desktop application for Mac OS X to help manage Web widgets from Google and other services.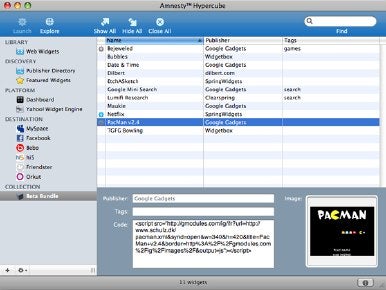 Amnesty Hypercube lets you move Web widgets, Flash-based games and video out of your Web browser and onto your desktop. You can drag-and-drop them between your own personal library and collections, use them in Apple's own Dashboard software and embed them on social networking Web sites including MySpace and Facebook.
Amnesty Hypercube incorporates a Publisher Directory that includes 175 bookmarks to Web sites that offer Web widgets. An inline WebKit-based browser lets you explore publisher sites' widgets, which can be added using copy-and-paste.
System requirements call for Mac OS X 10.3.9 or later.