JVC on Monday announced the addition of three new High Definition (HD) camcorders to its HD Everio line. All three models are planned for release in August, with prices set from $799.95 to $1,299.95.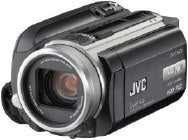 The three new models include the GZ-HD10, equipped with a 40GB hard drive and the ability to record at 1440 x 1080 in the AVCHD format; the GZ-HD30, with an 80GB hard drive; and the GZ-HD40, equipped with a 120GB hard drive. The latter two models can record 1920 x 1080 in both AVCHD and MPEG-2 formats.
JVC claims the GZ-HD30's 80GB drive can record up to 33 hours of HD content, while the GZ-HD40 can record up to 50 hours of HD content. The GZ-HD10 records up to 16 hours of video.
All three cameras come equipped with USB 2.0 and HDMI interfaces; the GZ-HD40 also comes with a docking station that incorporates FireWire 400 and USB 2.0. All three models can be used with Mac software (iMovie '08 supports AVCHD). The HD30 and HD40 models also include a plug-in that enables iMovie HD 6, Final Cut Pro 5 and 6 to use its MPEG-2 files.