Graphics chip maker Nvidia on Monday introduced its new family of GeForce GTX 200 graphics processors. The new processors are featured in PC graphics cards that will be available later this month starting at $399.
Nvidia claims the GeForce GTX 200 processors provide up to 50 percent faster gaming performance over the GeForce 8800 Ultra GPU, which is even faster than the top-end Nvidia graphics card available as an add-on board for today's Mac Pro systems. The GPUs also support Scalable Link Interface (SLI), a technology that enables more than one Nvidia card to work together in the same computer in parallel; PureVideo HD, video decoding and post-processing technology; and Compute Unified Device Architecture (CUDA), which enables programmers to offload processor-intensive tasks to the Nvidia graphics chip and card.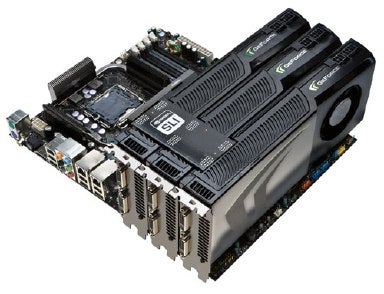 While no Mac-specific announcement has been made by Nvidia, the company uses a unified driver architecture across its product line. That enables the new Graphics Processing Units (GPUs) to work on the Mac if Apple decides it's worth the effort. As it stands now, Nvidia has announced that several of its manufacturing partners are creating boards based on the new design, including ASUS, a fabricator that Apple also uses for some of its manufacturing.
Nvidia is promoting the use of its GPU technology beyond just graphics, as well. GeForce processors are capable of massively parallel computations, so users can utilize the cards to process protein folding simulations using the distributed computing program Folding@Home, for example. The GPUs are also relied on for encoding and playing high-definition videos, editing photos and other commonly performed tasks.
The GTX 200 series debuts with the GeForce GTX 260 for $399 and the GeForce GTX 280 for $649.