LaCie on Monday announced the Little Big Disk Quadra 1TB, a one terabyte-capacity portable hard disk storage system. It is priced at $659.99.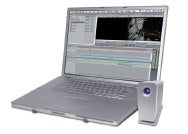 The Little Big Disk Quadra encloses two 2.5-inch hard disk drive mechanisms configured together as a Level 0 RAID. It sports an external Serial ATA (eSATA) port, two FireWire 800 and one USB 2.0 interface, and includes a FireWire 400 adapter.
The drive's chassis design is similar to LaCie's d2 external drive. If you're using FireWire, the drive is bus-powered (despite having two drive mechanisms inside). It weighs about 1.4 pounds.
The drive includes LaCie's Setup Assistant software and EMC Retrospect Express. It's also Time Machine-compatible.
The 1TB model joins 400GB and 500GB models already available.