Editor's Note: This article was originally published June 17, 2008. We've updated it in advance of the iPhone 3G's July 11 release to include information that's come to light since then, including the latest on AT&T's rate plans and iPhone 3G features.
With the iPhone 3G's release just days away, it's time to revisit the pressing questions relating to Apple's next-generation phone. We still don't know everything about this forthcoming iPhone 3G—and probably won't until we've picked one up on Friday morning—we do know more than we did immediately after Steve Jobs previewed the iPhone 3G at last month's Worldwide Developers Conference.
Since that time, AT&T has confirmed information about the iPhone service plans, while Apple has offered a guided tour of the iPhone 3G. Combined with more information we've gleaned from here and there, we're ready to take a fresh look at what you can expect when the new iPhone arrives on July 11.
What does the "3G" in the name mean?
If you're familiar with iPod naming conventions, the term 3G might make you believe that Apple is releasing its third generation of iPhone. No, you didn't sleep through an iPhone product introduction—3G in this case stands for third-generation mobile technology. It's a wide-area wireless technology that allows for much faster data transmission than the EDGE network used by AT&T with the iPhone right now.
How much faster is it than the current iPhone?
AT&T says that the iPhone 3G will have typical download speeds as high as 1.4Mbps versus average data speeds between 75Kbps and 135Kbps on its EDGE network. During Steve Jobs's keynote, it took 21 seconds to load a graphics-heavy Web page using 3G versus 59 seconds on EDGE. Similarly, an e-mail attachment took 5 seconds over 3G and 18 seconds on EDGE.
Of course, Macworld contributor Glenn Fleishman pointed out in his 3G guide last month that comparing 2G and 3G browser and e-mail attachment loading times isn't the most revealing exercise. The most important thing to know about 3G is that data transfer speeds will likely be faster than what iPhone veterans are used to—and more important, that there's room for 3G to grow.
Is 3G available everywhere? What happens when I don't have 3G coverage in my area?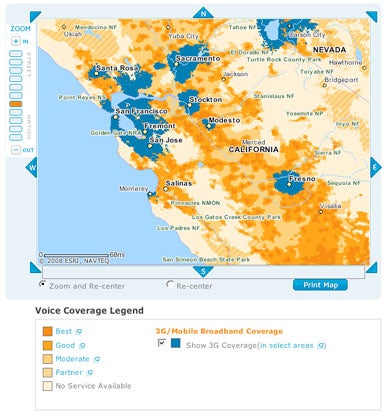 AT&T's 3G network only covers most major metropolitan areas. The company says 3G service is currently available in 280 U.S. metropolitan areas, and the company plans to offer 3G service in nearly 350 metro areas by the end of 2008. If you're in an area without 3G coverage, your iPhone will instead get its data over the slower EDGE network (which has much wider availability).
So that's all there is to 3G?
Well, there is one other feature tied into the addition of 3G, and it figures to be quite a handy one—thanks to the addition of 3G connectivity, you can have phone conversations and surf the phone on the mobile network—for example, you can get a restaurant's location without having to hang up on your friend when you're trying to decide where to go for lunch. With the 2G connectivity on the original iPhone, you could talk on the phone via EDGE and surf the Web via W-Fi, but you couldn't do both at the same time on EDGE.
Are there any physical changes between the iPhone 3G and the current model?
A few. As described in our hands-on look at the iPhone 3G, the back is now plastic (black on the 8GB model, black or white on the 16GB model) and the volume buttons on the left side of the phone are now silvery metal.
The headphone port on the top of the device is now flush with the iPhone's body, not recessed like the jack on the current model. That means you if you have a favorite pair of headphones, you'll no longer need a headphone adapter to make them work with the iPhone.
One other iPhone 3G design note: The handset's edges are thinner and more curved than in the previous version. That helps hide the fact that in the middle, this model is a little thicker than the original. Of course, the new phone also weighs a little less than the current model, though we're talking a tenth of an ounce. If you notice that difference, a career in weights and measures awaits you.
I was able to activate my old iPhone via iTunes. I'll still be able to do that, right?
An AT&T spokesperson told us that the activation process for the iPhone 3G will be different from the original iPhone. Users will need to activate the phone in an Apple or AT&T store, a process which should take about 15 minutes on average. Activation via iTunes will not be possible with the iPhone 3G. Because of that, you will not be able to buy an iPhone through the Web sites of either AT&T or Apple.
So how will in-store activation work?
We won't have a definitive answer on this until Friday. (And rest assured that Macworld plans on dispatching several editors to report on their in-store activation experiences.) But Apple has provided some indication of what to expect courtesy of an informational page describing, in theory, how the activation process will work if you plan on getting your iPhone 3G from an Apple Store.
Orange shirt-wearing concierges at the Apple Store will direct shoppers to an "iPhone bay." Once there, another Apple Store employee will help you decide between an 8GB and 16GB model, review coverage maps, select a rate plan, and activate your phone.
Speaking of rate plans, will the iPhone 3G's data plan from AT&T remain the same as the current iPhone's plan?
No. We knew back in June that AT&T's new 3G data plan would cost an extra $10 or month, give or take. AT&T confirmed as much last week, when it announced the official details of its assorted rate plans. For $70 per month, you get 450 Anytime minutes and 5,000 Night & Weekend minutes; $90 per month gets you 900 Anytime minutes and unlimited Nights & Weekends; $110 per month will include 1,350 Anytime Minutes, and Unlimited Nights & Weekend; and Unlimited Anytime minutes cost $130 per month. All plans include unlimited data, Visual Voicemail, Rollover minutes, and unlimited Mobile to Mobile minutes.
An AT&T Family Talk Plan, featuring two lines and 700 shared Anytime Minutes costs $130 per month; you can get up to 6,000 minutes for $360 per month. You can add up to three additional iPhones for $40 per line. An unlimited Family Talk Plan costs $260 per month, though each additional line costs $130.
The bottom line is, over the life of a two-year contract, you'll wind up paying more for the "cheaper" iPhone 3Gs than you did for the original models. And that's before we even get into texting charges.
But I thought texting was included with the iPhone coverage.
Not any more. For 200 SMS messages a month, you'll have to pay another $5. Monthly charges jump to $15 for 1,500 messages and $20 for unlimited texting. (Family Talk plans can add unlimited texting for $30 per month.) If you opt to pay as you go for SMS messages, count on being charged 20 cents each time you send someone a text message.
What if I don't live in an area with 3G coverage?
Sorry to say, you'll pay the increased fee for monthly data because you're activating it on a 3G-capable phone. There's no indication from Apple or AT&T that you can choose to relegate your iPhone to EDGE connectivity for a reduced cost.
That's what AT&T is offering. What about in other markets?
If you live outside the U.S., where AT&T remains the exclusive service provider for the iPhone, you might want to check with the carrier in your market. Unlike last year, where the iPhone debuted in the U.S. first and then gradually rolled out to a handful of other countries, Apple is planning a global splash for the iPhone 3G. On July 11, the iPhone 3G goes on sale in 21 countries on four continents. (Originally, Apple planned to launch in 22 countries, but cellular provider Orange announced earlier this month that the iPhone 3G's debut in France would be delayed until July 17.) Later this year, that number will swell to more than 70 countries.
We've done our best to stay on top of the iPhone plan options available in the iPhone's new markets. Here's what we've compiled thus far:
That's just a partial list, of course, but it should give you a flavor of the assorted rate plans available around the globe.
Now that the iPhone is so inexpensive, why would I pay more for an iPod touch?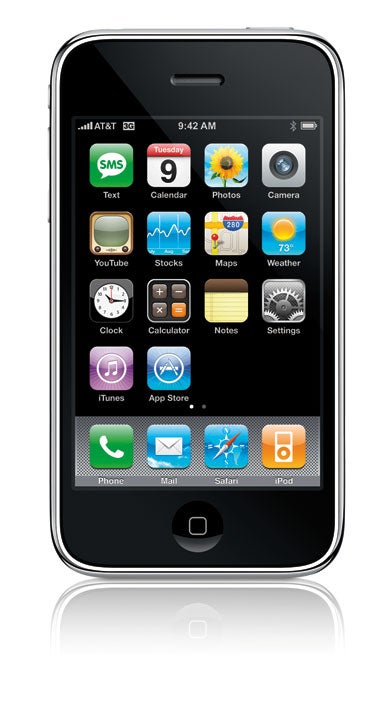 It's true that iPod touch models offering the same storage capacities as the iPhone 3G offerings cost $100 more. (Not to mention that a video-capable 8GB iPod nano costs the same as an 8GB iPhone). But there are plenty of reasons why someone might want to opt for a touch over a new iPhone.
For starters, maybe you're still under contract with another cellular carrier and don't want to pay the early termination fee. You may not have any use for the phone capabilities, either because your employer already provides you with a mobile phone or because you just don't use one. At any rate, an iPhone will cost you $70 a month minimum in service charges from AT&T. Over the life of a two-year contract, that adds up to much more than the touch's higher price tag. So don't expect the market for the iPod touch to dry up in the face of lower iPhone prices.
Can I upgrade my current iPhone to use 3G?
No. Using the 3G network requires new internal hardware that the current iPhone just doesn't have. If you want 3G, you'll need to buy a new phone. The same goes for GPS.
How can I pass along my old iPhone? I want to keep the number I have.
AT&T confirmed to us that you can pass along your old iPhone to someone else, who can then activate it via iTunes as before. (You'll find the full details on how to do so in this PDF on handing your original iPhone off to someone else.) And you'll be able to move your number to a new iPhone during activation.
Is the built-in camera the same? Does it have the same specs as the original? Can it now shoot video?
For anyone who's taken a grainy, low-quality photo with an iPhone, the bad news is you can expect more of the same. The iPhone 3G has the same two-megapixel camera as the original phone, which is not bad in brightly lit environments. Since there's no built-in flash, the camera doesn't perform well without adequate light.
As for video, Apple has made no mention of such a feature, not even in the guided tour video we linked to earlier in this article. While that doesn't necessarily mean we're not in for a surprise on July 11—unannounced features are discovered all the time in Apple products—video capabilities with the built-in camera seem like something the company might have mentioned by this time. We were skeptical in June about its chances to appear, and we're even more skeptical now.
The iPhone's GPS receiver will allow for one added bonus, however—since the phone knows exactly where you are, it will be able to geotag photos, embedding the location where you took them in images' metadata.
Steve Jobs claimed that the iPhone 3G has better audio. What does that mean?
We won't know until we hear it for ourselves—Apple doesn't seem to have any information available about the audio that would indicate any improvements. But the reviewers lucky enough to get an early look at the iPhone 3G have confirmed Apple's claims. In the New York Times, David Pogue says that audio quality "has taken a gigantic step forward." Walt Mossberg's review says much the same thing about the audio.
Since the iPhone 3G has built-in GPS, will I be able to use it for driving directions like I do with my portable GPS now?
It's true that the iPhone has a GPS chip that lets it precisely figure out your location. But unlike portable GPS units, the iPhone has no map data loaded on it, so it requires a constant data connection to provide Google Maps coverage. Also, there are no voice directions to help you get around, so you'll need a co-pilot to read off the turns to figure out if you're on the right route.
Obviously, this is an area that Apple is leaving open to third-party developers. To that end, GPS vendor TomTom has announced it has an iPhone-compatible version of its software nearly ready, so someone is stepping up to fill one of the most obvious needs.
So how do the iPhone 3G's GPS features work?
In the Maps application, there's now a tracking icon in the lower left corner. Tap it, and the GPS technology built into the phone zeroes in on your location—a blue pulsing button will appear on the map, and it will move as you do. This should prove to be particularly helpful for searching for businesses, restaurants, and locations. And if you look up directions with GPS tracking enabled, the iPhone will set your current location as your starting point.
Now sometimes, you're not going to be able to pick up a GPS signal. In that case, the iPhone will use Wi-Fi and cellular tower data to pinpoint your location.
Note: When you purchase something after clicking links in our articles, we may earn a small commission. Read our affiliate link policy for more details.