Kensington on Monday introduced a slew of new products aimed at laptop users, including a Bluetooth mouse, locks, power outlets and more.
The SlimBlade Bluetooth Presenter Mouse is a Bluetooth-equipped mouse that works with Mac OS X and Windows. It costs $49.99, and features a two-button design with click wheel and laser-accurate optical tracking. The mouse goes into sleep mode when your notebook does to conserve power.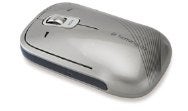 Kensington has also introduced a new line of "ComboSaver" notebook locks, designed to help reduce the likelihood of laptop theft. They connect to your laptop using a t-bar locking mechanism and come in different configurations and colors at prices from $24.99 to $39.99.
The Portable Power Outlet costs $@4.99 and lets you simultaneously power and charge up to five mobile devices from one wall outlet. It features three AC outlets and two USB power ports, sports a cord manager and is designed to fit compactly into a travel bag or notebook carrying case.
Other accessories include flexible column mounts for monitors, roller cases, backpacks and messenger bags for laptops and wrist rests for mice. Visit Kensington's Web site for more details.