The massively multiplayer online game EVE Online has been updated with a new content expansion pack called The Empyrean Age. Any EVE Online user with an active account will be updated with the new content when they log in.
EVE Online, developed by CCP Games, enables thousands of players to interact in an intricate online universe sprawling across hundreds of star systems set 35 millennia hence, after mankind populated a region of space far away from Earth and fell out of touch with its ancestral home. In EVE Online, players assume the role of a starship pilot allied with one of four different factions of humanity — the hierarchical, caste-focused Amarr, the wild Minmatar, the egalitarian Gallente and the military Caldari.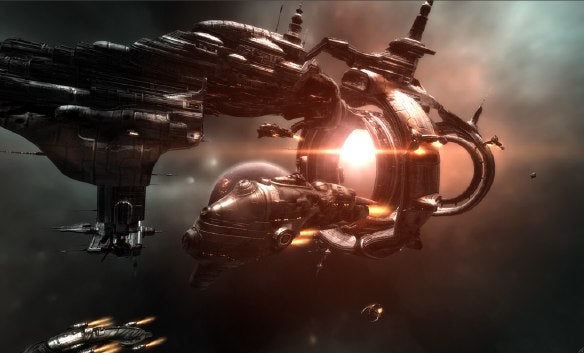 By developing skills, players compete for military, economic and political power, honing their abilities to fly spacecraft, mine and utilize resources, develop goods that other players need, or wheel and deal using one of the most advanced economic simulators found in any online game to date. The game is playable on both Macs and PCs — last November, CCP Games introduced Mac support for EVE Online, made possible using TransGaming's Cider translation layer technology, which enables the game to run on many Intel-based Macs.
The Empyrean Age is the eighth expansion pack for the long-running game, and it's free for users who have a current EVE Online account. Long-simmering political tensions between the four major factions in EVE finally reach a breaking point; players must now decide what sides they'll take as militias now make their stands in individual territories.
New features in the expansion pack include factional militias and ranks; factional warfare agents; warfare victory and kill statistics tracking; system occupancy based on militia fighting; combat zones in low-security space factional warfare complex and a new region containing 49 new star systems, 80 new agents and nearly 40 stations.
Mac users are still awaiting the delivery of a patch that will enable them to use "premium" graphics in EVE Online, which CCP and TransGaming previously promised to deliver in the first quarter of 2008. CCP had not provided Macworld with an update on the status of that patch as this article was posted.