At a Glance
Expert's Rating
Pros
User friendly
Shoots stellar high-definition video with vividly accurate colors, smooth motion
Includes microphone jack and accessory shoe
Cons
Awkward design makes for clumsy handling
Still images are slightly noisy
Our Verdict
Like what we saw happen to VHS technology when the DVD became popular, MiniDV tapes are gradually becoming a technology of the past. Most camcorder manufacturers are turning to tapeless storage media, such as a hard drive, memory card or DVD storage. Despite this trend, Mac users still encounter compatibility issues with tapeless camcorders, which is why we feel it's important to continue reviewing MiniDV camcorders, like Canon's new Vixia HV30. Canon's camcorder is a fine choice for die-hard MiniDV users, offering superb video quality and a bunch of nifty features. The HV30 proves you can still have a sophisticated product, even if it's using older technology.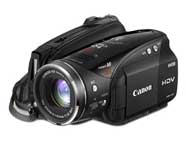 The camcorder is well designed, for the most part. The HV30's four-directional joystick is sturdy and sensitive, making it easy to navigate through the settings menu with your thumb. A convenient plastic cover protects the HV30's Firewire and HDMI ports from dust. To protect the lens, the camcorder features a built-in lens cover.
Though the HV30's curvy, black body is attractive, it feels somewhat cheap and clumsy to handle. The tape deck is located underneath your palm when you hand is holding the camcorder. I found it to be an awkward design that makes it difficult to maintain a steady grip.
The HV30 is the third camcorder in Canon's HV series. About a year ago we reviewed Canon's HV10 ( ), which we knocked for missing basic features you'd expect from a $1,099 camcorder, such as microphone and headphone jacks. On top of that, the HV10 had poor battery life, quirky ergonomics, and poor audio quality because the built-in microphone was strangely placed on the back of the camcorder. Fortunately, the HV30 is a big improvement in each of these areas: it includes headphone and microphone jacks; the built-in microphone is placed on the front of camcorder; battery life has doubled; and the overall ergonomics are significantly better. The HV30 also includes an advanced accessory shoe to hold special lights or microphones. With this array of features, you'll be able to produce a very professional-looking video.
We compared the output of the HV30 to that of two fairly recent high-definition tapeless camcorders: Canon's Vixia HF10 and Sony's HDR-SR11. Our panel of experts judged the output and deemed the HV30's video quality to be the best out of the batch, earning an overall Very Good rating. Video color in both normal and low-light settings was very pleasing, appearing vividly accurate compared to our control objects. Motion was smooth, and sound quality was decent.
The jury wasn't as impressed, however, by the HV30's still-image quality. Stills appeared slightly noisy, and colors looked eerie with the flash. The HV30 earned a Good for its still-image quality. The HV30 lasted 1 hour and 52 minutes recording in SP mode on a full charge, earning a Very Good rating.
Performance
| | |
| --- | --- |
| Still Image Quality | Good |
| Video Quality | Very Good |
| Battery Life | Very Good |
Scale = Superior, Very Good, Good, Fair, Poor
Specifications
| | |
| --- | --- |
| LCD Size | 2.7 inches |
| Optical Zoom | 10x |
| Still image resolution | 3.1 megapixels |
| Size (WxHxD) | 3.5 x 3.2 x 5.4 in |
| Weight (ounces) | 19.2 |
Macworld's buying advice
In a world where consumer Mini DV camcorders are being phased out, the HV30 is easily a top choice. The camcorder's impressive feature set and superb video quality should cater to both advanced and amateur video makers.