CodeWeavers on Tuesday announced the release of CrossOver 7, its Windows virtualization software for Intel-based Macs.
CrossOver enables Intel-based Macs to run Windows applications. It works differently from other virtualization software like Parallels Desktop and VMware Fusion because it doesn't require Windows to be installed in order to run Windows software. CrossOver is closely tied to an open source project for Linux operating systems called WINE, which provides a translation layer that enables Windows applications to operate on x86-based computer architectures.
CrossOver's general compatibility is a bit more limited that Fusion, Parallels Desktop or Apple's own Boot Camp software, but for Mac users who only need limited Windows compatibility, it provides a smaller footprint and less wasted resources.
The new version 7 release now supports Microsoft Office 2007, Windows versions of Photoshop CS and CS2 and added support for the "Compatibility Pack for the 2007 Office System" so that Office 2003 can open Office 2007 documents.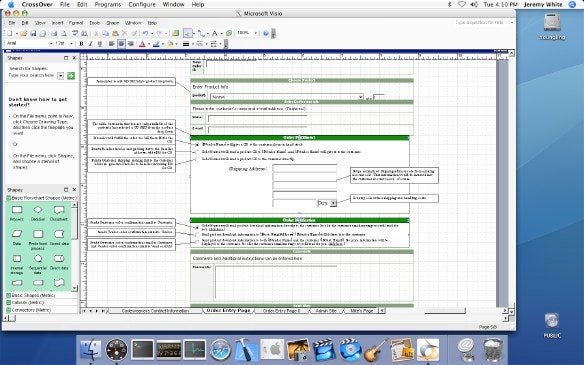 Bug fixes have been made to improve online banking support for Quicken 2007 and 2008, improved Outlook behavior especially with Exchange servers, service pack support improvements for several versions of office, improved Internet Explorer support in Windows 2000 and Windows XP "bottles," synchronization with the WINE 1.0 release and much more.
CrossOver Mac Version 7 brings with it a new licensing scheme. The software now comes in Standard and Pro releases, for $39.95 and $69.95 respectively. If you've previously licensed CrossOver Mac, you've been upgraded to Crossover Pro for free. This helps CrossOver Mac align more closely with CodeWeavers' Linux product. The Pro release includes CrossOver Games—a special product designed to provide game compatibility—along with enhanced deployable features, multi-user support, and "level 2" technical support.