Goin' green ain't cheap. QuickerTek's newest Apple Juicz product uses the sun to power the battery on your MacBook, MacBook Pro or MacBook Air, but it will cost you $500, at least. To help defray the cost, QuickerTek is throwing in a free backpack to help you carry the flexible, foldable cell array.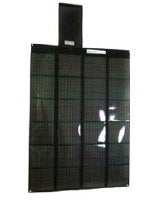 The Apple Juicz comes in three "flavors," if you will: 18 watt, which recharges a MacBook Air battery in 14 hours; 27 watt, which recharges a MacBook Air in eight hours; and 55 watt, which recharges your MacBook Air in five hours. They cost $500, $600 and $1,000 respectively.
That may sound absurdly expensive, given that the replacement cost of an Apple laptop AC adapter is just a fraction of that price. But QuickerTek president Rick Estes said that it's right in line with what the market will bear for such a device. "It's certainly not cheap," he admits.
And using a regular AC adapter, you can't charge and power your Mac laptop while camping, or at the beach.
QuickerTek, best known for making networking products designed to dramatically enhance the range and reception of Apple wireless networking systems, is enhancing its product line to include more power products. Its first was an external battery and charger for the MacBook Air.
Estes admits that he's not sure of how many solar panel rechargers QuickerTek will sell. "If we sell just one-tenth as many of the solar chargers as we've sold of the MacBook Air external battery, I'd be happy," he said.
The Apple Juicz solar panels measure as large as 60 x 42 inches when fully unfolded — the cells are made of thin film material, not the brittle silicone found in some cells, so they're flexible and not liable to shatter or break. QuickerTek claims the cells can power and charge a MacBook Air simultaneously.
QuickerTek requires you to use an upgraded MagSafe connector with the Apple Juicz — to modify your own, it'll cost $25, otherwise they'll sell you an upgraded MagSafe for $100. They also include adapters for cars and airlines, and a power adapter for regular AC wall outlets.
The Element carry bag included with the purchase is large enough to accommodate both your laptop and the solar cell array.