Toshiba on Tuesday launched a new ultraportable laptop that it claims is the world's lightest, putting it in contention with vendors including Apple and Lenovo.
The company said the full-featured Portégé R500-S5007V weighs just 2.4 pounds (1.08 kilograms), compared to Apple's MacBook Air, which weighs 3 pounds, and Lenovo's Thinkpad X300, which weighs around 2.93 pounds. The laptop measures 0.77 inches at its thinnest point, according to Toshiba.
The company also claimed that the new laptop was the first to include a 128GB solid-state drive (SSD) to replace the hard drive. Laptops to date have had 64GB of storage, though Lenovo provides 128GB of storage through two 64GB modules.
The new laptop will only be available with one 128GBSSD for now, a Toshiba spokesperson said.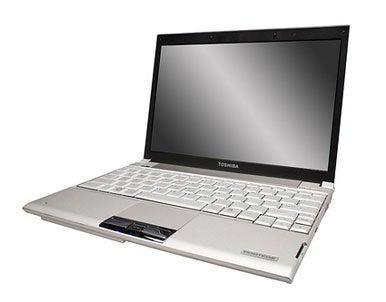 SSD has no moving parts like a hard drive, so it consumes less power that can give the battery more runtime. The laptop can run for an eight-hour runtime on a single battery charge, according to Toshiba. The laptop runs on a lithium-ion battery.
Battery life is also preserved by the laptop's transreflective 12.1-inch screen, which can shut down the LED (light-emitting diode) backlighting by reflecting the sun's rays to illuminate the screen, according to Toshiba.
For $2,999, users can get a laptop powered by an Intel Core 2 Duo U7700 processor at 1.33GHz, with 2MB of cache and 2GB of RAM. In contrast, a 1.6GHz MacBook Air with 2GB of RAM and an 80GB parallel ATA drive costs $1,799; opting for the 64GB SSD model with a 1.8GHz Core 2 Duo processor pushes the MacBook Air's price tag to $3,098.
The Portégé R500-S5007V will come with Windows Vista Business OS, which is also downgradable to Windows XP Professional. The laptop includes a SuperMulti optical drive that can read and rewrite DVD and CD media, wired and wireless 802.11 a/g/n networking, Bluetooth 2.0 support and built-in safety features to protect laptop data during falls.
The Portégé R500-S5007V is a standard configuration, however, Toshiba offers similar configurations with a hard drive option, a company spokesperson said.
Toshiba said the laptop includes a specially built motherboard that can provide the same functionality of boards found in 15.4-inch laptops, but is one-third the size.
The laptop will start shipping in the third quarter this year, according to the company. The company didn't comment on worldwide availability.
Macworld.com staff contributed to this report.
Updated at 8:35 p.m. PT to correct the tech specs on the 1.6GHz MacBook Air.