Western Digital (WD) on Wednesday introduced the My Book Mirror Edition, a Mac and PC-compatible external hard drive storage system that uses RAID to keep a copy of your digital contents safe. It's available starting at $289.99.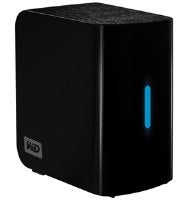 The My Book Mirror Edition is a USB 2.0-based external storage system. Inside are two hard disk drive mechanisms, configured out-of-the-box in RAID Level 1 (mirrored) mode. You can also reconfigure the system as a RAID Level 0 system (striped) if you'd like to improve performance. In mirrored mode, each drive mechanism contains a duplicate copy of data; if something happens to one drive, the other drive continues to operate. The chassis is user-serviceable so you can replace a faulty drive if need be.
The storage device works without a fan, so it operates quietly. And the drive mechanisms sport WD's "GreenPower" technology, which the company said enables them to operate using one-third less power than a standard dual-drive external storage system. Backup software is included.
WD offers the My Book Mirror Edition in 1 terabyte (TB) and 2TB capacities for $289.99 and $549.99 respectively.