Home automation and home theater integrators looking for a complete home entertainment system have a new choice from SE2 Labs called the Integrated Theater Console (ITC) One. The ITC One integrates various components including an Apple TV together in one central system, for the budget price of $25,000.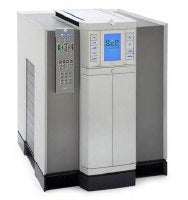 The ITC One sports an Apple TV; Microsoft Xbox 360 video game console; Nintendo Wii; Blu-ray Disc drive; DirecTV high-definition DVR, Dish Network DVR or cable provider's DVR; AMX NetLinx control system, Bryston pre-amp processor, IcePower D-class amplifiers, Vidikron video processor, iPod dock, remote control, Transparent Cable power condition, cabling and cable harness, and an anti-noise/anti-vibration system.
The apparatus works using floating circuit boards on removable cards inside of a centralized power system linked using a single touch screen or remote control which adjusts all aspects of the connected components, along with auxiliary accessories, drapes and room lighting. The console measures 17 5/8 inches wide by 23 7/8 inches high by 22 inches deep.